DSW Rallies on Solid Earnings Growth
Yesterday (11/22) DSW rallied sharply after seeing strong earnings numbers. First let's take a look at the chart, then we can look at those numbers. 

DSW weekly Chart 11/23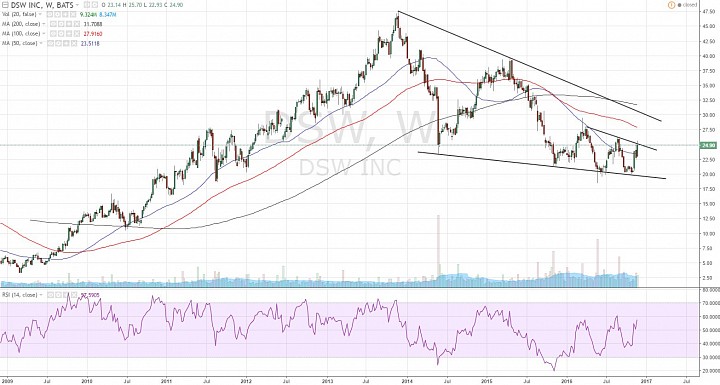 (click to enlarge)

Falling Wedge Consolidation:
- The weekly chart shows that DSW has been bullish since 2009 until late 2013. 
- This run was from a low of 3.33 in 2009 to a higher of 47.55 in 2013. 
- Since that high in 2013 price action has been very choppy, but we can see that it eventually materialized into a falling wedge.
- Also note that 2016 price action is a small falling edge as well.
- The price structure since late 2013 suggests we are in a significant consolidation period, but the long-term trend is still bullish.

Monitoring 30:
- It's hard to say whether the market is ready to ride DSW back into an uptrend. 
- It should be noted that DSW has completed a 61.8% fibonacci retracement.
- And we do have at least some short-term upside after the strong earnings (see below). 
- In the short to medium-term, there is upside from the current level around 25 up to the 30 area. 
- We should monitor 30 for resistance. This is in a support/resistance pivot area. It is a psychological level. And there is a falling wedge resistance that might challenge the rally. 

This week's low:
- If the market can hold above this week's low at 23, DSW looks ready to push out of the smaller falling wedge and eventually push towards the larger falling wedge resistance around 30.
- A break below this week's low, after such the positive earnings report, would suggest further bearish correction. In this scenario, we should anticipate at least a return towards 20.00. 

DSW gets into stride
DSW's fiscal third-quarter results were generally solid. Sales climbed by 4.7% to $697 million, which was slightly slower than the 7% growth rate that most investors were looking to see. However, adjusted net income jumped 16% from year-ago levels to $41.7 million, and that worked out to adjusted earnings of $0.51 per share. That was $0.03 per share higher than the consensus forecast among those following the stock.
Taking a closer look at DSW's business, it's clear that the shoe retailer hasn't solved all of its problems. Comparable sales fell once again, dropping 2%, and the company was only able to say that the decline was only half what DSW suffered in the third quarter of 2015. The Ebuys line continued to play a minor role in the business, contributing $21.3 million to the top line, or just over 3% of DSW's total revenue.
In a stark reversal to what we've seen from DSW recently, the company managed to post an improvement in its margin figures. Gross profit margin was up more than half a percentage point on an adjusted basis, with DSW explaining that less extensive clearance markdowns and a lack of an inventory valuation reserve helped to offset higher shipping costs. Incentive compensation weighed on operating profit, but excluding its impact, adjusted operating expenses improved by more than a full percentage point. Inventory was higher on an overall basis, climbing by about 8%, but when adjusted for a greater number of square feet, DSW's inventories fell by 3.5%.
DSW saw different results on a segment-by-segment basis. The DSW retail segment posted a 1.6% sales gain, while the Affiliated Business Group segment suffered a sales decline of the same percentage. Gross profit and comps were also better at the DSW division, while the Affiliated Business Group suffered more dramatic 4.6% declines in comps and saw gross margin fall.
CEO Roger Rawlins was excited about the progress that DSW has made. "This quarter reflects the first step in our return to year-over-year earnings growth," Rawlins said, breaking a string of four consecutive declines in the bottom line. The CEO attributed smart inventory and cost management for the gains.
Read more: http://www.fool.com/investing/2016/11/22/dsw-jumps-on-earnings-growth-holiday-cheer.aspx#ixzz4QpktTXNQ