Stalking USD/JPY's Bullish Breakout Follow Through
We recently noted the prospect of USD/JPY breaking above a resistance after it stayed above a key support around 105.50. Indeed, price has broken higher, but has stalled. Let's take a look at the follow-through.
USD/JPY Daily Chart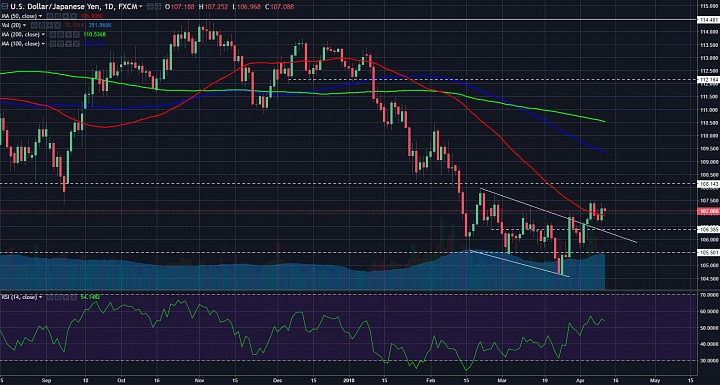 (click to enlarge)
Breakout:
- The daily chart shows that the bullish breakout stalled at 107.50.
- After a couple sessions of decline, we saw a bullish engulfing candle to start this week.
- The bullish engulfing candle suggests the market is ready to push above 107.50 towards the key resistance area 108-108.15.
- However, price action has stalled again during the 4/10 session.
- The 1H chart below shows the intra-session price action.
- We can see that the falling channel set up in the previous couple of sessions has been broken by a bullish push.
- This is a good sign for the bullish case towards 108.
- Also note that price here is above the 200-, 100-, and 50-hour simple moving averages (SMA). Another strong bullish sign in the near-term.
- The hourly RSI however still shows maintenance of the bearish momentum from the last couple of sessions.
- Now, if the hourly RSI can hold above 40, that would be a good non-bearish sign. If it can push above 60, that will be an early bullish sign (only because we have other bullish signs - by itself it simply means bears lost momentum).
- So, we basically have a lot of evidence pointing north to a small signal that bears are still in control in the near-term. If the RSI holds above 40 and pushes above 60, we should have more confidence towards the 108-108.15 target in the short-term.
USD/JPY 1H Chart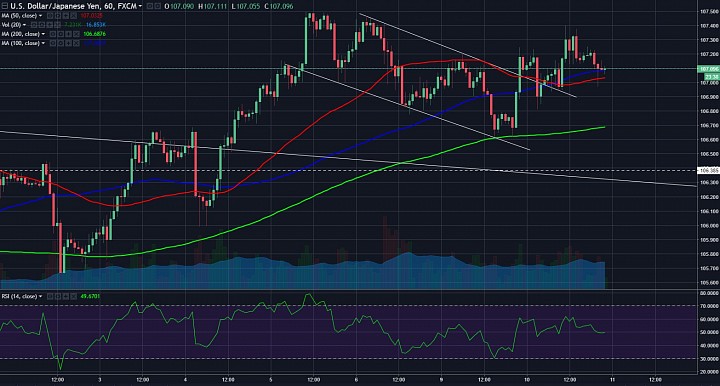 (click to enlarge)