USD/JPY Testing the Prevailing Bullish Momentum
Recently, we anticipated a bearish swing in the short-term for USD/JPY as it tagged a key resistance. This bearish swing indeed materialized and almost tagged our target of around 108. Now, it is testing a key support and challenging the recent bullish momentum.
USD/JPY Daily Chart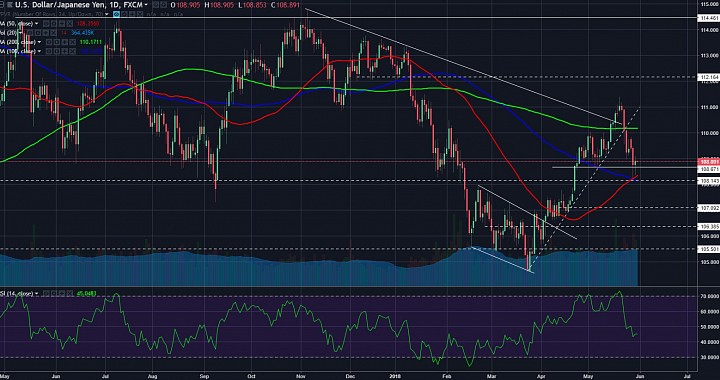 (click to enlarge)
Support and Momentum:
- The area around 108 is a key support/resistance area.
- Bullish momentum would keep the RSI above 40 as well.
- This is where we can anticipate some buying, and we are seeing some.
Bearish Scenario:
- A break below 108 would suggest that bulls are NOT in control.
- Furthermore, the RSI is right around 40. If it falls below 40, we have a loss of the prevailing bullish momentum from April-May.
- Now, a hold above 108 however is not a strong bullish sign yet. If price pops up and holds under 110, we might still have a bearish scenario.
Bullish Scenario:
- A hold above 108 and a return above 110 on the other hand would suggest that bulls are indeed in charge.
- In this bullish scenario, we can see a run towards 114.