Overstock.com (OSTK) - Anticipated Rally, Target, and Subsequent Bearish Reaction
Last week, I noted that $OSTK looked to be in another bullish swing to a new high on the year, above the August high.
Overstock.com (OSTK) - Price Action Suggests a Price Bottom With Upside to $30
OSTK Daily chart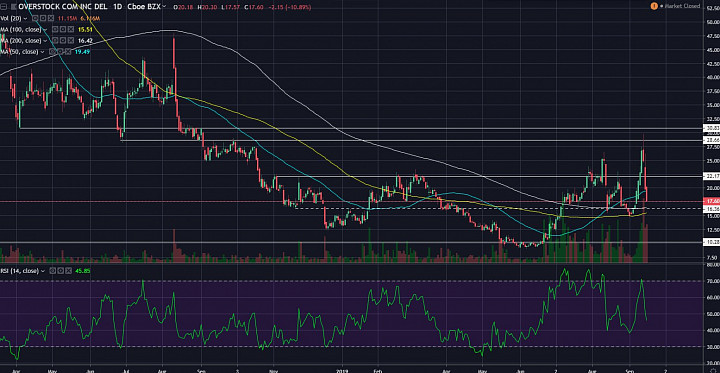 (click to enlarge)
Bearish Reaction:
- Indeed, price did continue higher and almost tagged $30 by the end of last week.
- We noted that the $28-$30 area was a support/resistance pivot area that might offer strong resistance because the prevailing trend has been bearish.
- As expected, traders sold OSTK after price climbed to this $28-$30 area. This was a strong reaction with very strong accompanying volume.
- Now the key level will be $15. If price falls below this key support, we should anticipate downside back to the low on the year under $10, and possibly lower.
- To the upside, because $30 is showing such a strong resistance, a break above would be a good sign for a bullish recovery. Otherwise, the downside below $10 is still viable.