I Like Goldman Sachs (GS) at $200 After the Recent Bullish Breakout
Goldman Sachs (GS) has been consolidating after a bullish recovery swing in late 2018, early 2019. There was a false break down in early June, but that failed bearish signal translated into an eventual bullish one.
We recently noted the bullish scenario as price broke above the 200-day simple moving average (SMA) and was testing key resistance around $210.
GS Daily Chart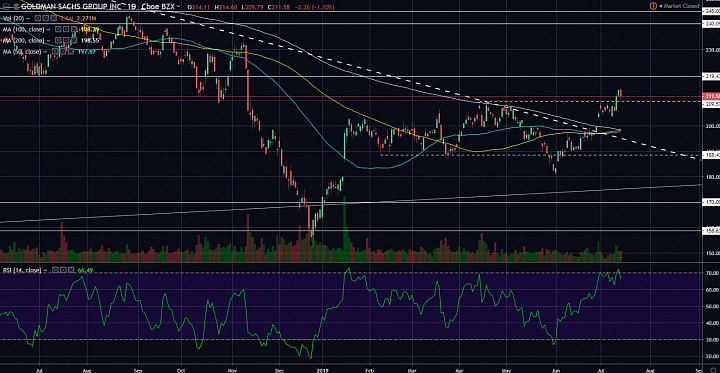 (click to enlarge)
Bullish Breakout:
- The bullish breakout is complete.
- Price had broken above a falling trendline, the cluster of moving averages, and the previous 2019-high around $210.
- Furthermore, the bullish trend is in-line with the trend since 2009. Note on the weekly chart below that price remains in a rising channel.
- I think there is at least upside to the $240-$245 pivot area.
- There might be some resistance around $219-$220, which was a previous support/resistance pivot.
- I think if the bullish trend is indeed going to materialize, there should be support at/above $200. So let's see if there will be a 10% correction when price approaches $220.
- I do not have any exposure in GS, but have an entry order at $200.
GS Weekly Chart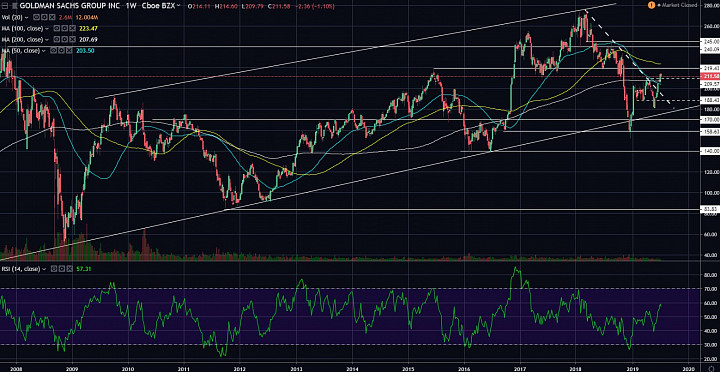 (click to enlarge)