USD/CAD opened up a bearish continuation scenario
USD/CAD has been in a choppy "uptrend" since May. I put quotations around uptrend because it hasn't really been a trend, and might just be a period of consolidation. After all, USD/CAD has been sharply bearish heading into May.

USD/CAD 4H Chart 8/16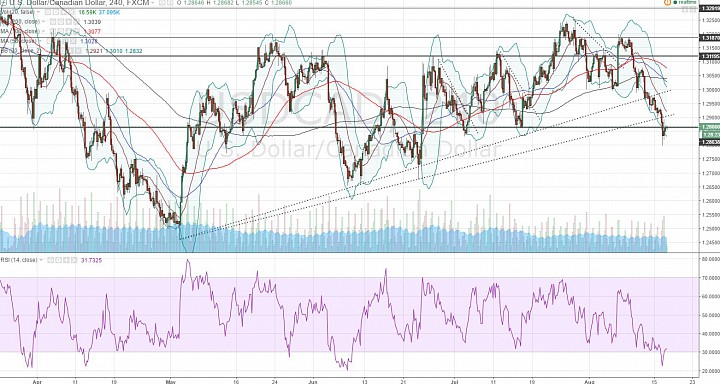 (click to enlarge)
Broken support:
- Looking at the 4H chart, we can see that price has come back down below the 200-, 100-, and 50-period simple moving averages.
- Also, price has broken below several key supports including the 1.30 handle and a couple of rising support lines. 
- The RSI dug below 30, which shows strong initiation of bearish momentum. 

Neutral-bearish outlook:
- We can say that this bearish swing is a sign of bearish continuation.
- In a more conservative outlook, we can say that the bullish outlook is being shelved, and the USD/CAD is back to a neutral-bearish mode instead of a neutral-bullish mode. 
- In this neutral-bearish mode, the medium-term downside risk is back towards the lows around 1.25. 
- However, in the short-term, I would consider the prospect of price ranging between the 1.28 pivot and the 1.30 handle. 
- Basically, if price pulls back up to the 1.30 area, I would consider selling with 1.28 as viable short-term target with potential of further downside in the medium-term.