Salesforce (CRM) showing signs of a bullish reversal
Shares of Salesforce (CRM) have been retreating since hitting 84.00 back in May. Before May, CRM was in a sharp bullish swing, rebounding from a low on the year at 52.60 to tag 84.00. 
CRM Daily Chart 9/22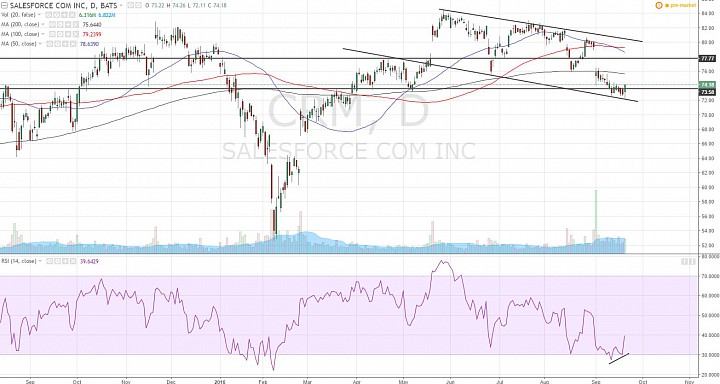 (click to enlarge)
Bearish correction:
- 2016 can be divided into 2 modes: 1) Feb-May: bullish 2) June-Now: bearish consolidation.
- The bullish Feb-May swing was apparently the dominant of the 2 phases this year.
- The above gives reason to a bullish bias.
- With a bullish bias in mind, I interpret some of the most recent technical signs as clues to a bullish swing either within the consolidation pattern, or potentially to breakout of the current consolidation pattern.
Bullish signs:
1) 9/22 session was a bullish engulfing candle.
2) There is a bullish divergence between price and the RSI.
3) The bearish swing since late August is going up against a projected falling channel support.
Bullish outlook:
- The bullish outlook should first be limited to 80. If price fails to push above 80, CRM should be considered still in consolidation.
- A break above 80.00 on the other hand puts 84.00 back on the radar, with even further upside risk into historic highs. 
Perhaps a little partnership with Cisco (CSCO) is giving Salesforce (CRM) a boost. Here's the latest from CNBC.com:
Cisco Systems has spent the last several years trying to convince investors that it's truly embracing the cloud. Now it's got the seal of approval from a rather credible source: Salesforce.com.

The two Bay Area companies announced plans on Thursday to develop products that combine Cisco's web-based video and audio technology with Salesforce's cloud software to make it easier for businesses to quickly fire up conversations with their customers.

Rather than having to hop over to an e-mail or look up the phone number and make a call, a salesperson will be able to click a button within a client's profile and launch a text chat, video or voice conversation, powered by Cisco.

"Every company that's come before and tried to do this has created a new island," said Rowan Trollope, Cisco's senior vice president who runs collaboration. By rebuilding its technology on the web, "Cisco can embed one-to-one and multiparty communications right into the workflow," he said.

The partnership comes at a fortuitous time for Cisco, because it puts the networking giant on the agenda for next month's Dreamforce, Salesforce's mammoth annual customer conference in San Francisco.

While Salesforce was born in the cloud and has been able to take advantage of the advancements in mobile and data analytics, Cisco's glory days were back when businesses bought their own infrastructure — in Cisco's case networking gear like big switches and routers. (Full article at CNBC.com)