ADP Jobs Report Reflects Growth in January
According to today's (Feb. 1) ADP National Employment Report, there were 246K non-farm, private sector jobs added in January. 

Here's an overall breakdown: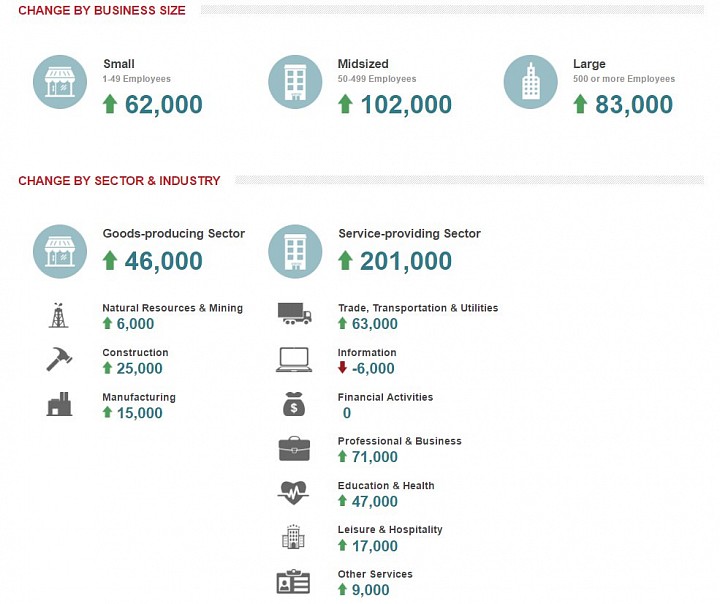 (copied from ADP Employment Report for January 2017)

This is the 2nd strongest monthly improvement in 12 months. Here are some reactions reported in the Press Release for the latest ADP Employment Report:
"The U.S. labor market is hitting on all cylinders and we saw small and midsized businesses perform exceptionally well," said Ahu Yildirmaz, vice president and co-head of the ADP Research Institute. "Further analysis shows that services gains have rebounded from their tepid December pace, adding 201,000 jobs. The goods producers added 46,000 jobs, which is the strongest job growth that sector has seen in the last two years."

Mark Zandi, chief economist of Moody's Analytics said, "2017 got off to a strong start in the job market. Job growth is solid across most industries and company sizes. Even the energy sector is adding to payrolls again
It sounds like the Federal Reserve Bank is seeing this improvement as well. While it kept policy unchanged, it acknowledged improvements in the economy. 

The market is going to be more interested in Friday's US Non-Farm Payroll. While the ADP report often shows drastically different number than Friday's jobs report, the trend should be the same. The fact that there was such a strong reading in today's report should suggest at least a report on Friday that is relatively stronger than previous ones. 
While average forecasts call for a 170K reading, I believe a reading above 200K will appear. The market does not seem to be buying the USD yet, but I believe if nothing else changes, there is upside for the USD going into Friday.

Of course, we are also dealing with other issues such as the "Trump Effect" whatever that might be on currencies.