USD/CAD - Bulls Taking Charge as Oil Falls: Jobs Data Ahead
Last week, I was flirting with the bullish scenario for USD/CAD. For me, if USD/CAD was able to hold above 1.29 the bulls are in control. If it breaks below 1.2850, bears are in control. Price did come down and crack the 1.2850 level, but we can see now that support there did materialize. 
USD/CAD 4H Chart 7/7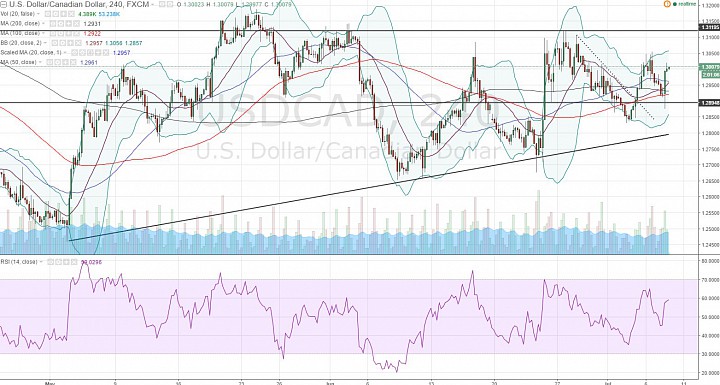 (click to enlarge)
More confirmation for the bullish scenario: I did get stopped out, but the bullish scenario was still alive to me. This week, we saw more signs that bulls are taking over in the short-term.
1) USD/CAD broke above a falling speedline with strong price action.
2) After the break price fell , but essentially respected 1.29 as support. 
3) Price action today (7/7) was very strong, indicating bullish bias. 
4) It should also be noted that USDWTI (WTI crude oil) fell below a critical support at 45.85. This was one of the key reasons the CAD was weak today - Because Canada is a net exporter of oil, CAD has a positive correlation with oil. 
After I got stopped out at the end of last week, and after price rallied from below 1.2850 to 1.3050, I put in a buy around 1.29. So far so good. Price action looks favorable to the upside, and the first target of 1.31 is still viable. 
Non-Farm Payroll and Canadian Jobs Data: We will get jobs data from both the US and Canada. The US NFP will be more likely to move the market, but don't sleep on Canadian jobs data neither. Here are the expectations shown on forexfactory.com.


Number on the left column: expectation
Number on the right column: previous reading
As you can see, there is a strong expectation for the US jobs report, and a weak one for the Canadian jobs report. 
The fact that the market looks bullish ahead of it is encouraging for the upside. However, the bulls will be tested around the 1.31 area. USD/CAD will have to clear not only 1.31 but also 1.32 after the NFP to free itself from a consolidation range that lasted about 2 months. After 1.32, USD/CAD has the 1.33 and 1.34 handles in sight. In the daily chart, we can see that the 1.34 represents a common resistance area, so let's limit our bullish outlook to that for now.