Nike is bearish but should find support around 47.50
Shares of Nike (NKE) have been falling since the end of 2015. The weekly chart below shows a year-long consolidation that appears to be completing an ABCDE falling wedge.

Nike weekly chart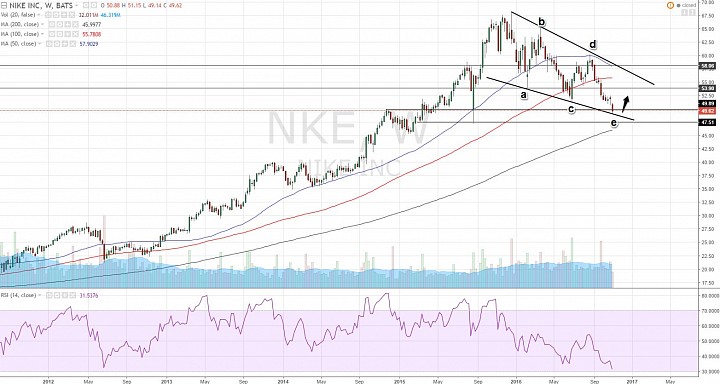 (click to enlarge)
Falling wedge:
- The weekly chart shows that price action since late 2015 has been bearish and in the structure of a falling wedge.
- The wave count suggests a completed abcde pattern. With Elliott Wave lens, we would consider this a completed cycle of correction.
- Why is this a correction and not a trend? Again from an Elliott Wave perspective, we would say that the structure of the decline since late 2015 is choppy vs. the rally heading into 2015. 

Support around 47.50:
- Price is cracking the 50.00 handle, but I think there is support around the 47.50 area. 
- We had buying around this area in 2015. 
- Also, we can see that price is at the falling wedge support. Meanwhile, if the RSI tags 30, it would represent oversold condition. 
- An initial swing from this cluster of support should target the 53.90 pivot up to the 55.00 handle, where price would be challenged by the falling wedge resistance.

I don't think Nike would push below the 2015-low at 45.39. I don't completely prescribe to Elliott Wave principles, but the falling wedge abcde structure is very clear and I want to take a stab at NKE in this 47.50 area or even around 48.