Snap Inc. (SNAP) Extends Bullish Breakout and is Cracking Resistance at $14 After an Analyst Upgrade
Snap Inc $SNAP appears to be on its way to recovery after a yea and a half of decline from highs above $28 to lows around $5 in late 2018. In April, we saw a bullish breakout and I noted that upside will likely be limited to $14.
Snap Inc. $SNAP in a Bullish Breakout But Upside Likely Limited to $14
With price rallying sharply against this resistance, I would revise my conservative outlook and look for upside to $17 and possibly $20 this year.
SNAP Daily Chart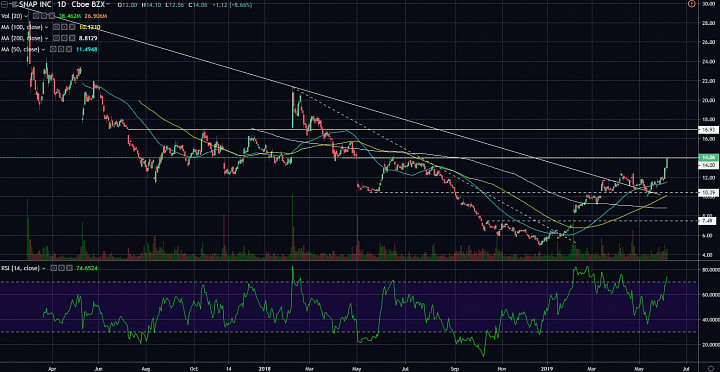 (click to enlarge)
Bulls Taking Over:
- First there was a completed price bottom in February when price broke above $7.50.
- SNAP never looked back after than, eventually breaking above the 200-day simple moving average (SMA), another key pivot and a falling trendline in April.
- Eventually we saw price consolidate.
- But SNAP held above $10, above the 200-day SMA and above the falling trendline. Furthermore, the RSI held above 40 for the most part. These were signs that bulls have taken over.
- This week, price pushed sharply past the consolidation range and is now cracking the $14 resistance.
- Maybe we will see some resistance here around $14 as the week closes. But as long as price holds above $12, I think there will be bullish pressure to push above $14 towards the next pivot around $17, and eventually the $20 handle in 2019.
The media is attributing this week's rally to an analyst upgrade on SNAP.