Intelligent Systems (INS) In Sharp Bullish Continuation Breakout
Earlier this week, we noted that the price action in Intelligent Systems $INS looked ready for a bullish breakout from a recent consolidation.
Intelligent Systems Corp. (INS) - Price Action Positive for a Bullish Breakout
The break out has indeed materialized.
INS Daily Chart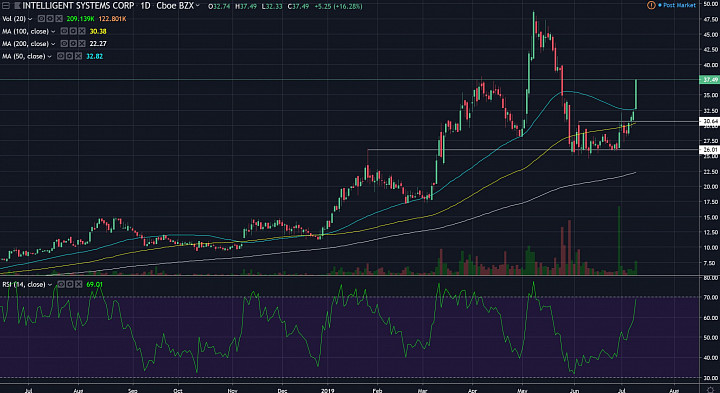 (click to enlarge)
Bullish Continuation:
- As we can see on the daily chart, share price took a dip in May and then consolidated sideways in June.
- Even though there was a sharp pullback, price was still above the 200-day simple moving average (SMA), and the moving averages were still in bullish alignment. Nonetheless it was an alarming pullback.
- Maybe it is the start of a longer-term consolidation, but so far, it is not a strong sign of a bearish market yet.
- At the end of June, price and volume was strong and we noted that as a basis for a subsequent bullish breakout.
- With price breaking out during the 7/10 session, the $30.60-$32 area will likely become a key support in the context of a bullish continuation scenario.
- In this scenario, we can also anticipate price retesting the highs on the year around $47.50-$48.
I entered a long very small position at $28 after the initial pullback. Now I am looking to add more if price pulls back to $32.