EUR/JPY - Bullish Strategy Assessment
The Japanese yen has been strong and the Euro has been weak in 2018. Hence, we have been observing a bearish, albeit choppy trend last year. I think the overall trend might still be bearish, but EUR/JPY could be entering a short to medium-term pullback.
EUR/JPY Daily Chart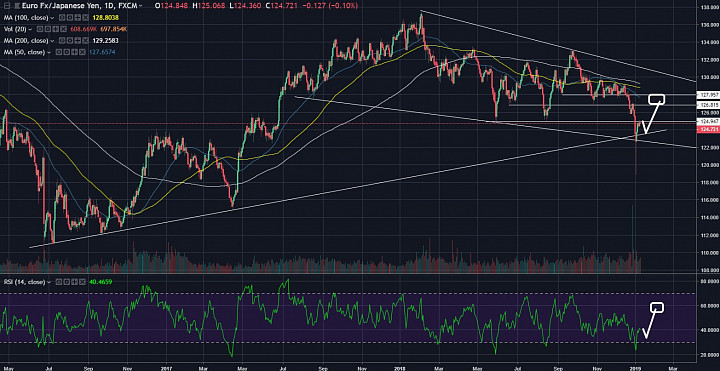 (click to enlarge)
Support and Capitulation:
- First of all, we can see that as EUR/JPY approached 122, it met a bunch of support factors.
- 122 is a previous support pivot, but more importantly is where a couple of projected trendline support converged.
- Furthermore, the RSI was below 30, indicating oversold condition - although in a bear market, we should not rely on oscillator (i.e. RSI) oversold signals.
- Note that price actually reached down to 118.85 briefly, but never stayed down below 120.
- The fact that there was a strong reaction here suggests the market could have capitulated and may be at least looking at a shift into a sideways market, with some upside in the short to medium-term.
- Because the prevailing trend has been bearish, I would limit the bullish outlook to 127-128.
Reward to Risk Assessment:
- Let's average these targets and say we are targeting 127.50.
- At this point, I think price should be supported above 122 if EUR/JPY is going to rally.
- A break below 121.50 would reduce the likelihood that price can get back up to 127-128 before another dip towards 118 or even lower.
- Let's say we have a stop at 121.30.
- With these parameters, we would need an entry around 123.30-123.40 to make trade with a 2:1 reward to risk profile.
- Here you would be risking about 200 pips for a potential gain of about 400 pips.
Consideration:
- Right now, a break above 125 would provide more confidence of the bullish scenario. But at the same time, a break above 125 makes it less likely that price will retreat back to 123.40, IF EUR/JPY is indeed in a bullish swing towards 127-128.