Boston Beer (SAM) - we can buy on this dip
Last time we looked at Boston Beer (SAM), we saw a bullish breakout.

SAM 4H Chart 7/21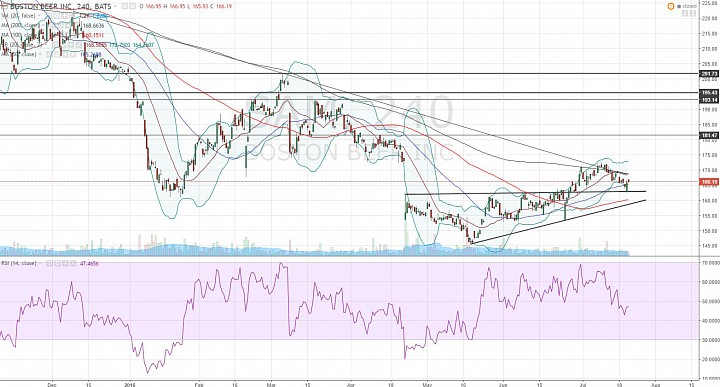 (click to enlarge)

Resistance:
After the bullish breakout, there was resistance at 172.50
There was a falling speedline from December 2015 and also the 200-period simple moving average (SMA).
After a bearish divergence with the 4H RSI, price retreated from 172.50 to about 162.55 this week.

Support:
It looks like price action during the 7/19 session respected the previous resistance as support. 
Also note the bullish engulfing candle. 
I think the next support will be around 160. This should be a critical one because a break below 160 could revive the bearish outlook.
For now, the bullish reversal scenario is still valid. 

Trade idea:
If we can buy at 166 with a stop at 158, we would lose almost 5%. 
If SAM pushes to 180, we would gain 8.4%. 
A more aggressive outlook for the rest of 2016 would be around the 193.15-195.40 area. 
If SAM pushes to 190, we would gain about 14%. 
If you average the two targets, you would basically get a trade profile that has better than 2:1 reward to risk. 

Failure: 
As noted before ,a break below 160 could mean a failed bullish attempt.
This could translate into a bearish continuation scenario with the 146 low on the year exposed, and with 140 in sight as well.