Under Armour Inc. (UAA) Pulls Up to Test the 200-day Moving Average
To me, the sharp sell-off in late July and early August is an indication that Under Armour $UAA might have entered a period of consolidation or a bearish trend. When we look at the daily chart, we can see that this bearish swing broke a rising wedge support as well as another support/resistance pivot around $18.50.
UAA Daily Chart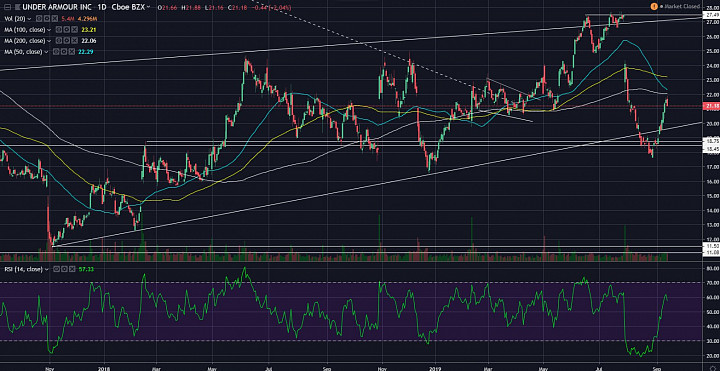 (click to enlarge)
Bears in Charge?
- Here's the thing. Price action has been bullish since late 2017. However, the rally from the $11.50 area to the $27.50 high in 2019 has been choppy. This suggests it could have simply be a larger consolidation pattern and not a primary trend.
- On the daily chart, we can see that the market has been bearish since late 2015, so this 2018-2019 wedge could simply be a period of consolidation.
- The fact that price failed to clear the 200-week simple moving average (SMA) also suggests maintenance of the long-term bearish trend.
- This is the scenario I am now going by. Thus the break below the wedge support and the $18.50 support was a bearish continuation signal to me.
- Thus, I don't trust the current recovery. I am anticipating resistance in the $22-$22.50 area, which involves a support/resistance pivot area.
- On the daily chart, this is area also involves the 200-day SMA.
- Staying on the daily chart, we also see that the RSI is right around 60 and could be turning lower. This dynamic (RSI holding under 60), could be a sign that bears are still in charge. Furthermore, we saw price action slow down as it approached $22, followed by a bearish engulfing candle.
- So far, it looks like the market is acknowledging this area as resistance as well. If price falls back below $20, I would have more confidence of the bearish continuation scenario.
- If price does come back to test the August low of $17.65, I would expect UAA to break lower.
- In the medium-term (looking at 2020 now), I think there is downside to the 2017-lows around $11.50.

UAA Weekly Chart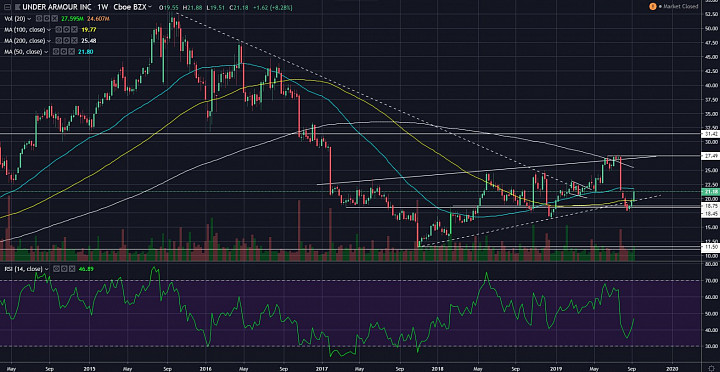 (click to enlarge)