Will CVS's Innovative Efforts Save its Shares From Further Bleeding?
$CVS has a couple of key developments:
1) Entrance into the CBD market - CVS heard from its customers who use CBD, will 'walk slowly' in the space, CEO Larry Merlo says
2) Same-day prescription delivery - CVS expands same-day prescription delivery nationwide
So far this week, the market appears to be keeping it above the low of $52. In July 2015, CVS shares were trading up to $113 before the multi-year decline.
CVS Weekly Chart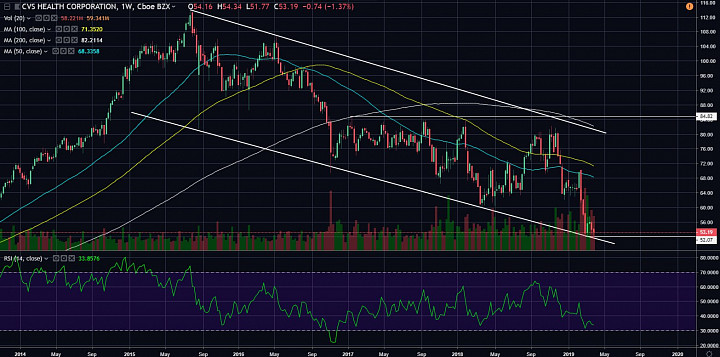 (click to enlarge
Falling Channel:
- After enjoying a secular bull run after the global financial crisis, CVS finally started to pullback.
- It has been doing so in a falling channel. Much of this can be attributed to the anticipation of Amazon's entrance into the pharmaceutical space.
- Not surprisingly CVS is trying to fight the disruption by being innovative in terms of its products and services offerings.
- I won't pretend I know what the future holds, but as price approaches the levels not seen since 2008 (around $44), I think price will stick and potentially rally in the short-term.
- But for now, price is holding above $50-$52.
Double:
- We can see a potential double bottom forming above $52.
- I think there is a chance that price will hold above $52 or at least $50 for a pullback towards at least $60, but at most $70.
- This would not be a long-term bullish outlook, but a short-term correction against the long-term bearish outlook.
- Still, after more than 50% correction form the 2015 high, I think the market is going to find CVS an interesting name especially if it continues to show ability to stay with the times.
CVS Daily Chart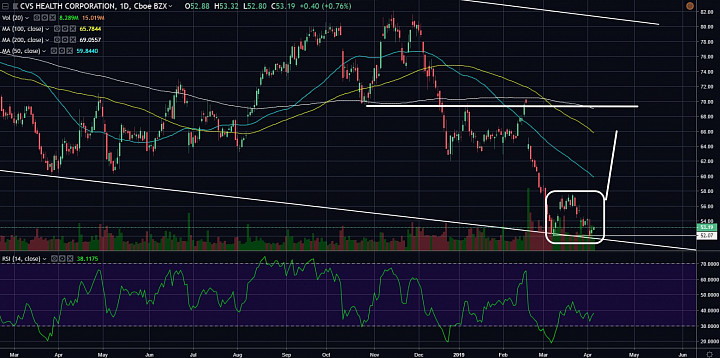 (click to enlarge)