Under Armour (UAA) is Turning Bullish Again
Under Armour's (UAA) market cap has been contracting since an adjusted high of almost $53 in 2015. After falling to about $11.50 in 2017, it has been climbing back. In 2018, we can say that it has made a significant recovery and is signaling a price bottom after the 2015 to 2017 slide.
UAA Weekly chart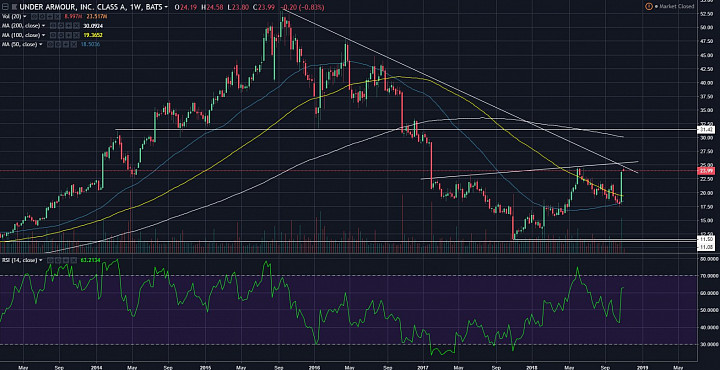 (click to enlarge)
Inverted Head and Shoulders:
- One of the reasons I am becoming bullish on UAA again is because as we wind down the year (2018), we are seeing an inverted head and shoulders pattern being completed.
- This "accumulation" or "price bottom" action suggests the market is no longer bearish like it was in late 2015 through 2016 and most of 2017.
- Furthermore, the weekly RSI has held above 40 in October after pushing above 70 mid-year. This suggests maintenance of the bullish momentum from the first half of the year.
- Lastly, the most recent bullish weekly candlestick is a major engulfing candle that recovered essentially all the losses from the past few months (June, July, August, September)
- In the very short-term, there might be some resistance at $25. But I think price will stay above $20 on a pullback.
- Meanwhile, there should be upside towards at least the $30 area, where the 200-week simple moving average (SMA) resides at the moment.
- The $30-$31.50 area is also a key support/resistance pivot area.
- For now, I would keep this as the cap to our bullish outlook. By that time the inverted head and shoulders pattern would be old news, and we will have to reassess the chart, general environment, and UAA's own specific fundamentals.