GBP/USD Breaks Consolidation Range for a Bullish Correction
GBP/USD is entering the 11/26 session with a bullish breakout from its consolidation range between 1.5586 and 1.5737. This range is sitting on the low of the year, and the prevailing trend is still bearish in the medium-term. However in the short-term, we are seeing a bullish correction developing.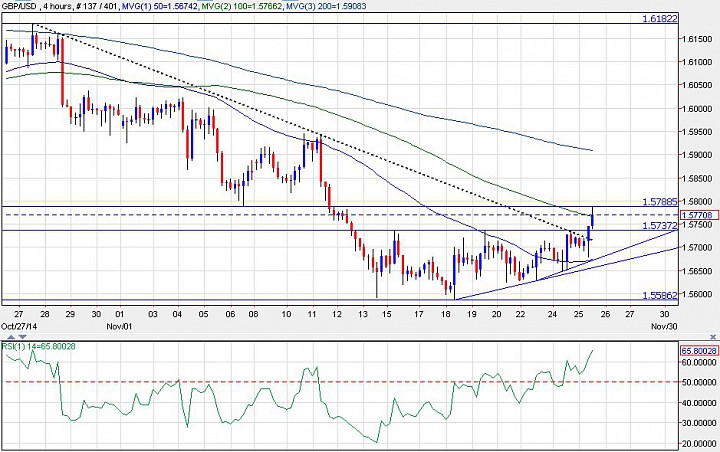 (GBP/USD 4H chart; click to enlarge)

The 4H chart shows the breakout of the range as well as a break above the falling trendline coming down from a 1.6182 resistance pivot in late October. The 4H RSI is also breaking above 60 showing loss of the momentum established during November. 

Now, the width of the consolidation range is about 150 pips, and 150 pips above 1.5740 gives a target projection around 1.5880. If after this current breakout price can hold above 1.57, we should anticipate further bullish correction towards 1.5880. This turns out to be a pretty key level when we look at the daily chart.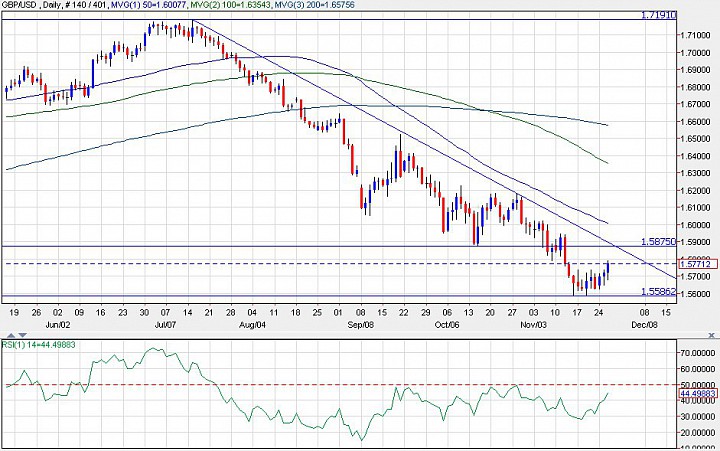 (GBP/USD Daily Chart; click to enlarge)
When prices approaches that 1.5880 level, it will also be tested by a falling trendline from the 1.7191 high on the year. This is a key trendline and should hold forgiving a brief crack, especially if it is due to sideways action. We also see a previous support pivot at 1.5875, which can act like a resistance.

So, I am bullish in the very short-term with a target of 1.5880, and will gain confidence in this outlook if price holds 1.57 on a pullback. Below 1.57 we are likely in a bearish momentum.