Morgan Stanley (MS) - Failure to Cross $45 Suggests Further Consolidation/Correction Ahead
Morgan Stanley $MS remains in consolidation in 2019 after an initial rally from $37 to $48.50. (late Dec. 2018 to end of April 2019). But since that rebound, price action has been bearish. A recent rebound failed to cross above $45, which suggests extension of the bearish mode since May.
MS Daily Chart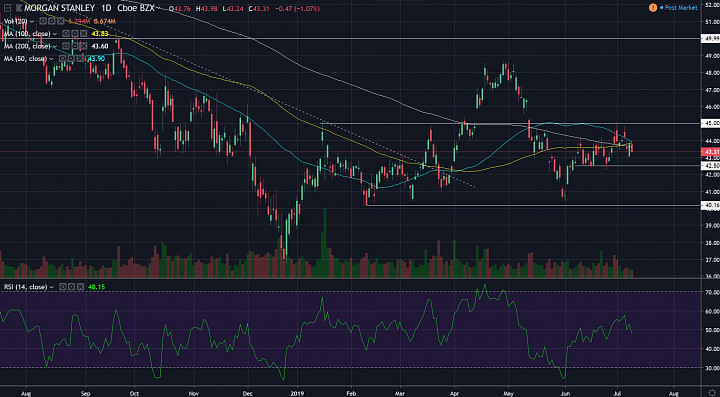 (click to enlarge)
Bears in Charge:
- After that initial rebound, it looks like bears are back in charge since that dip in May.
- Holding above $40 was a good sign, but price has not been able to clear the cluster of moving averages as resistance.
- It almost did recently, but price is now back below the moving averages.
- There was also a key resistance at $45. Failure to break above this resistance was also a sign that bears are still in charge.
- Furthermore, the RSI held under 60 so far in July. After it dipped below 30 in May/June, this holding under 60 dynamic reflects maintenance of the prevailing bearish momentum.
Key Support Around $40:
- As we can see on the daily chart, while $45 was a common resistance, the area just above $40 is a common support.
- But even above that, the $42.50 level was a common support since June. A break below $42.50 opens up $40.
- If price does eventually reach $40, we are looking at a head & shoulders pattern.
- Having this pattern appear within a bearish trend suggests bearish continuation ahead. Thus, I would not rely on $40 for support if price does come down here. Instead, I would anticipate a break and challenge of the $37.50 area for support.
Bearish Momentum in the Weekly Chart:
- The RSI dynamic on the daily chart can been seen on the weekly chart as well. Note how the RSI held under 60 even after the 2019 rebound. This suggests bears are still in control.
- The bearish correction scenario first has the $37.50 area in sight as support. It is possible that price has shifted into a sideways consolidation in 2019 and $37.50-$38 would be support.
- Otherwise, there could still be downside towards the $30-$33 area, which involves a key support/resistance and possibly a rising trendline that connects back to 2008.
MS Weekly Chart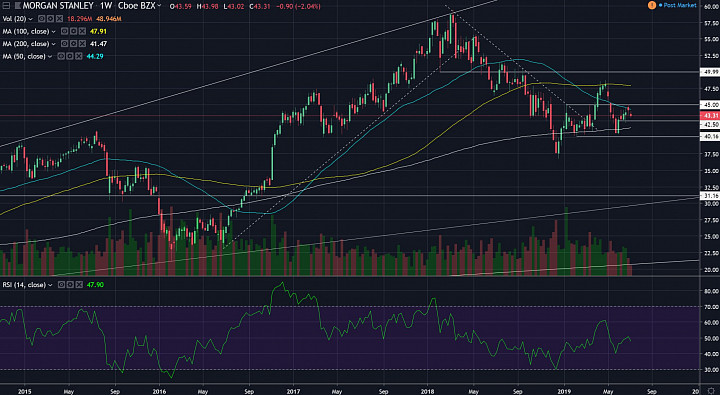 (click to enlarge)