Teva Pharmaceutical (TEVA) - Broken Wedge Support Tested as Resistance
Teva Pharmaceuticals $TEVA have been in a comeback since late 2017 when price bottomed around $11 a share. This is after sliding from $72 a share in July of 2015. Since that 2017 low, price has come back to almost touch $26 in August, but has since retreated.
TEVA Daily Chart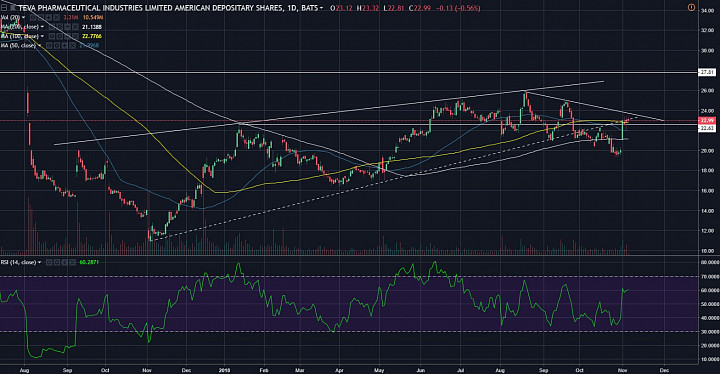 (click to enlarge)
Bearish Breakout:
- The daily chart shows that late 2017-2018 price action has formed something like a rising wedge.
- Also, price failed to break above $26 in August, and has since been chopping downwards.
- The latest dip broke below the rising wedge support as well as the 200-day simple moving average (SMA).
- This opens up a bearish continuation scenario towards the 2017-low around $11.
- But first we have a pullback up to $23 as we can see on the daily chart.
Testing Resistance:
- The rally from just under $20 last week showed some resilience after a favorable earnings report that came out on Wednesday Oct. 31.
- If the market maintains resistance here just above $23 and price falls back below $20, I consider a bearish outlook at least in the short-term.
- But let's say we have a pullback. A hold above $21 and therefore above the 200-day SMA, would be a good sign. Then, a break above $23/$24 should revive the bullish outlook back towards $26 and higher as move wind down the year.
- In the short-term, there is upside to $27.80, then to the $32-$34 area in the medium-term.
- But in 2019, there is a chance price can "revert back to the mean" as indicated by the 200-week SMA.
- This would mean an aggressive bullish outlook towards the $40 level.
- Before we get ahead of ourselves, we should note TEVA is still in long-term bearish market, and the 2018 bullish wedge is already broken, which opens up the bearish continuation scenario.
- So we should probably anticipate the bearish outlook but keep our eyes open for development of a bullish reversal i.e. a hold above $21 (200-day SMA).
TEVA Weekly Chart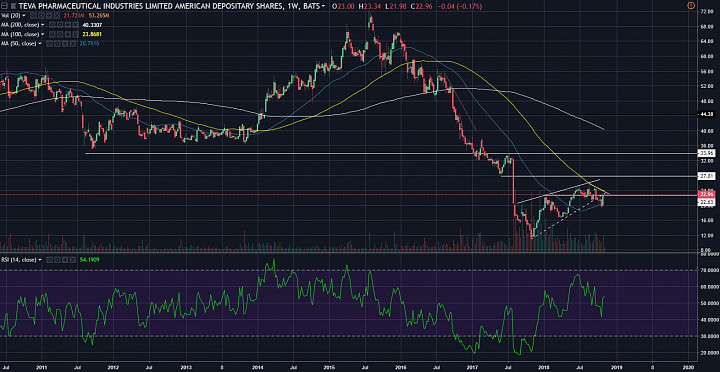 (click to enlarge)
Q3 Earnings:

...
Third-quarter sales of Teva's generic drugs declined 25% to $922 million in North America. Globally, generic drugs brought in $2.27 billion, dipping 17%. But Moody's analyst Morris Borenstein says the trends suggest Teva's generic drugs unit could stabilize in 2019 after two years of pressure.
"The segment had a sequential decline of less than 3% in the third quarter, a positive sign that the worst of generic price pressures are behind Teva in the U.S.," he said in a note to clients.
Teva Stock: Copaxone Sales Hold Up
Generic drugs are Teva's biggest source of sales. Mizuho analyst Irina Koffler noted North American sales of generic drugs lagged analyst estimates for $932 million. But she reiterated her buy rating on Teva stock on the company's series of cost-cutting measures and branded product growth.
Total sales of $4.53 billion missed the consensus for $4.58 billion and declined 19%. But Teva earnings came in at 68 cents per share, on an adjusted basis, beating the average of analysts polled by Zacks Investment Research by 13 cents. Year over year, earnings toppled 32%.
Copaxone sales also showed some promise in the quarter, Koffler said. Mylan (MYL) and Novartis(NVS) both have generic versions of Copaxone. Sales of Teva's branded version have been in decline since those rivals launched.
Teva Earnings: Sales 'Handily' Beat Views
In the third quarter, Copaxone sales were $601 million globally. That "handily beat the consensus estimates of $391.5 million," Koffler said. On a year-over-year basis though, global Copaxone sales declined 39%. The biggest decline came from North America, where Copaxone sales plunged 43%.
Teva raised the low end of its full-year sales guidance to $18.6 billion to $19 billion. The midpoint lagged the forecast of analysts polled by Zacks for $18.91 billion.
The pharma also significantly boosted its adjusted profit outlook to $2.80-$2.95 per share, up from its prior view for $2.55-$2.80. The low end of new guidance for Teva earnings topped analysts' estimates for $2.79.