JPMorgan Chase (JPM) in a Bullish Continuation Run into Fresh Highs
JPMorgan Chase $JPM is leading the pack in the banking sector recovery. While most bank shares are still trading under their respective 2018 highs, still stuck in consolidation mode, JPM is punching into new highs.
JPM Daily Chart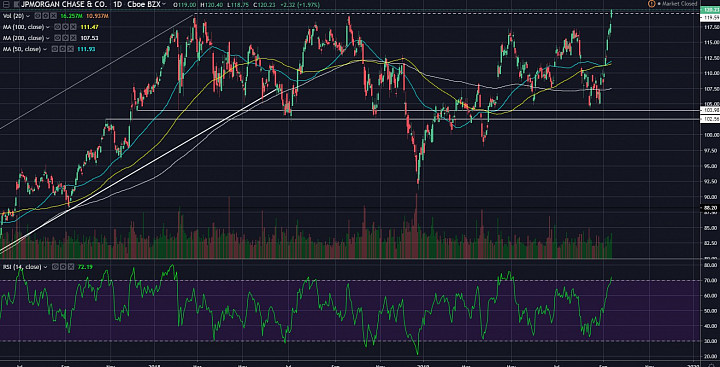 (click to enlarge)
Don't Chase:
- A bullish breakout into record highs is usually a sign of strength to come.
- Price has broken a consolidation that started in early 2018. Price also had a bearish correction down to $92 in late 2018.
- But since then, JPM has recovered.
- I was not expecting the recent surge from almost the common support around $114 to the consolidation high around $119.60.
- Last week, price broke above this resistance, closing just above $120.
- While this might push up another 10% or so, say to $135, I think there is too much risk of a pullback towards $112 (middle of the range).
- If price does retreat to $110-$112, then I would be looking to buy on the dip.
- The current breakout doesn't have strong volume and I just don't think there is too much general market risk to be chasing a breakout.
- With that said, if there is a general pullback in JPM as well as other bank shares, I would be more inclined to buy JPM's correction other names like Citigroup $C, Goldman Sachs $GS, Morgan Stanley, $MS, Wells Fargo $WFC etc.