Albemare (ALB) Surges After Positive Earnings Report, But now Faces Resistance Around $90
A month ago we discussed the reward to risk of buying ALB at support, around $74.50, with a target of $87 and a stop of $71.30.
Albemarle Corporation (ALB) - Reward to Risk Assessment of a Trade at $74.50
Price action has been in our favor, allowing for an entry and holding above the $72.40 support and eventually pushing above $80. However it was the Q4 earnings report that came out after the 2/20 session that propelled price to $90, reaching our target.
Before looking at the price chart, here's a summary of the earnings report from MarketWatch:
...Albemarle earned $129.6 million, or $1.21 a share, versus a loss of $218.4 million, or $1.95 a share, in the fourth quarter of 2017. Adjusted for one-time items, Albemarle earned $163.7 million, or $1.53 a share, compared with $149.8 million, or $1.34 a share, a year ago. Revenue rose to $921.7 million, compared with $857.8 million a year ago. Analysts polled by FactSet had expected adjusted earnings of $1.47 a share on sales of $895 million. Albemarle said it expects sales between $3.65 billion and $3.85 billion, and adjusted profit between $6.10 a share and $6.50 a share for 2019. "Our growth will be driven by increased volume in our core lithium business," while other businesses will be flat, the company said. "We are not forecasting any significant macroeconomic headwinds and have not seen any decline in our customer demand forecasts."
from: Albemarle stock rises 5% as lithium producer beats forecasts, sees steady demand (Marketwatch.com)
The earnings report showed strong Q4 numbers as well as rosy forecast for 2019.

ALB Daily Chart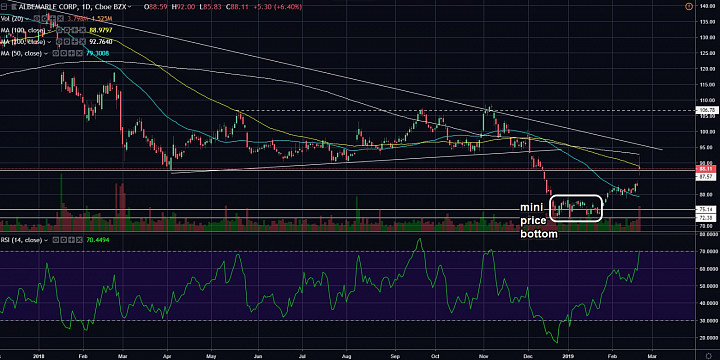 (click to enlarge)
Mini Price Bottom:
- As we can see on the daily chart, price was already coming off a mini price bottom.
- The market respected this price bottom throughout February.
- The 2/21 session boost was therefore in-line with the prevailing short-term mode.
- However, the medium-term bearish trend that started in late 2017 continues. This trend started when price stalled around $140 a share in late 2017, and fell almost 50% to about $72 a share in December 2018.
- This bearish mode is still intact and price is going to be testing key resistance factors as it pushes above $90 a share.
- I think we should anticipate price to be stuck around $90-$100 for a while.
- This is the bottom half of a previous consolidation range. In a bearish market, this area should act as resistance.
- Also note that a falling trendline should challenge the current rally at around $95 a share.
- A break above $100 on the other hand would suggest that the market has indeed turned bullish on ALB.
- I had my trade closed, and now I am all out of ALB. Now I am planning to place small orders at $82, $80, and $78.
- Now, I think we can be more confident of the upside, with a target to $100 instead of $87.