Bitcoin Awaiting Consolidation Range Breakout
Bitcoin has recently been trading sideways stalling after a bullish trend in June-July, which tested the 2015-high in the 310-320 area. 
Bitcion (BTCUSD) 4H Chart 8/6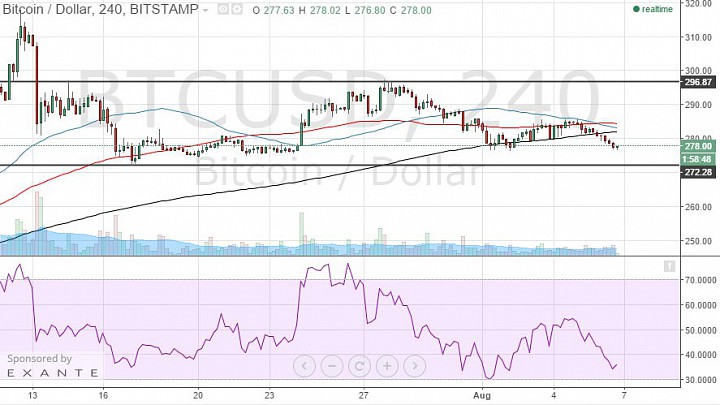 (click to enlarge)

In the 4H chart, we can see bitcoin consolidating between roughly 272 and 297. A break above 300 should put pressure on the 310-320 area gain with risk of breaking higher from the prevailing bullish momentum. However, if there is a break below 270, bitcoin is likely NOT bullish in the medium-term, and rather sideways, with short-term bearish outlook.

Bitcoin Daily Chart 8/6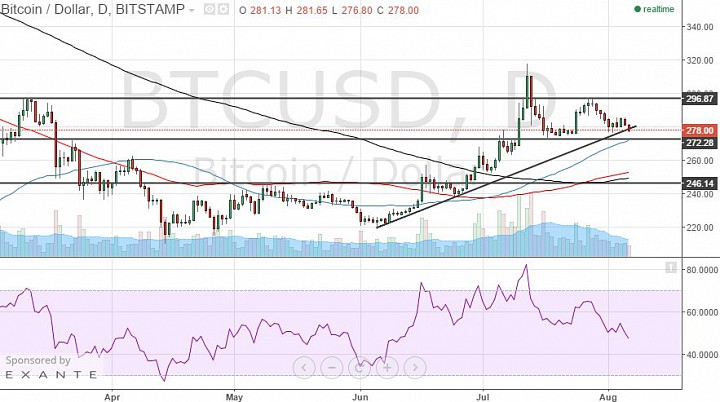 (click to enlarge)

Neutral-Bullish Mode: 
As I noted, I think a break below 270 makes bitcoin neutral or maybe neutral-bullish in the medium-term. In the daily chart, you can see that the break below 270 would also clear a rising trendline and the 50-day simple moving average.  Now, the bulls do have one more line of defense in my opinion. If price can hold above the 245-250 area, bitcoin would likely have another chance to develop a bullish trend going into Q4 this year.