GBP/USD Remains Bullish as the BoE Prepares for Worst Case Brexit Scenario
GBP/USD has been in a choppy bearish correction since it cracked then retreated from 1.30. After coming down to about 1.2610, it found support. Let's take a look at the daily chart.

GBP/USD Daily Chart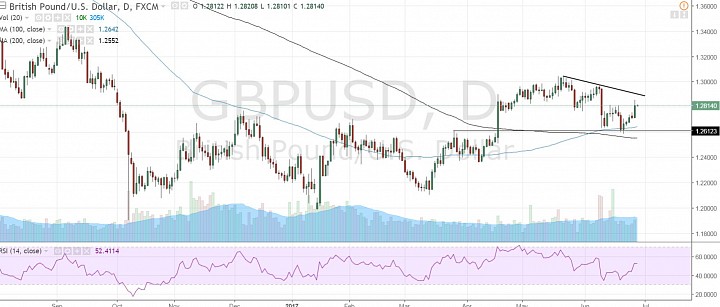 (click to enlarge)

Price Bottom Confirmation:
- First of all, we should note that price has broken above a year-long price bottom.
- The recent bearish trend in May challenged the price bottom.
- So far it looks like the market is respecting this bottom. I think a hold above 1.24 keeps GBP/USD bullish, and it held above 1.26.
- The fact that price held above the 200- and 100-day simple moving averages (SMAs), is a bullish slingshot signal as well.
- Finally, note that the RSI held above 40, although it did crack it a briefly a couple of times.
- Still, we can say that the prevailing bullish momentum was barely kept.
- I think at this point, a break above 1.29, which would clear the current resistance trendline, would open up a bullish continuation.
- The bullish continuation scenario would open up the 1.34-1.35 area for the second half of 2017.
It should be noted that price rallied relatively sharply during the 6/27 session, when the Bank of England (BoE) released its quarterly financial stability report. In it, the BoE informed us that it was taking measures to prepare for the worst Brexit scenario, where the UK would not be able to get any deal done with the EU and is left with unfavorable trade terms.