Microsoft (MSFT) Might be Initiating Another Bearish Swing
Last week, we noted that if Microsoft falls below $104 that it would possibly return to the bearish correction mode with another downswing.
Microsoft (MSFT) - Looking at a Bearish Swing If Price Falls Below $104
MSFT Daily Chart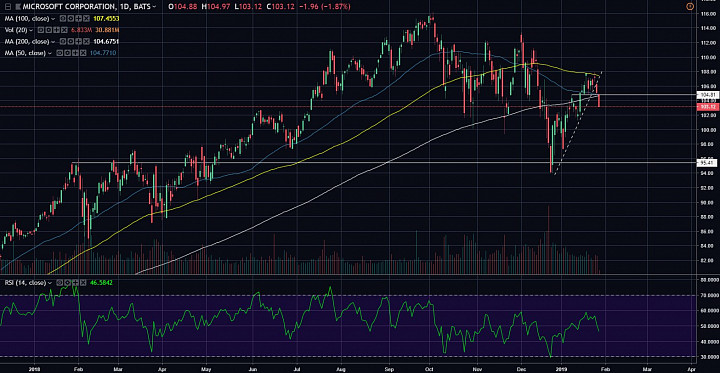 (click to enlarge)
Downside:
- Indeed, after price stalled under $108, it fell below $104 during the 1/29 Tuesday trading session.
- The fact the RSI held under 60 suggests the overall bearish momentum is still intact.
- We can anticipate at least a drop to the $100 handle.
- We can also anticipate some buying around $100, but I would not rely on this level as support.
- I think if we get a bounce from $100, there will be resistance in the $104-$105 area.
- If there is indeed selling at $104-$105, then we can be even more confident of the bearish swing .
- Now, a conservative bearish outlook would be the $95-$96 area, which can be regarded as a support/resistance pivot.
- But if price reaches the previous low of $94, I think we should anticipate a lower low. This would simply follow the current pattern of lower key highs and lower key lows.
- Looking at a rough measured move projection on the weekly chart below, we should consider preparing dry powder in case price falls to the $84-$90 area, I think we will have significant support here especially after 3 swings down from $116.
MSFT Weekly Chart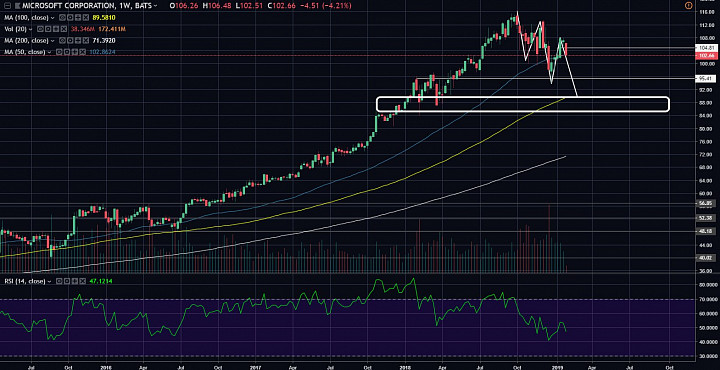 (click to enlarge)