The Pound Gets a Boost as Inflation Tops Estimates
Today, the Office for National Statistics of UK released Consumer Price Index (CPI) data for February. The annual inflation rate came in at 2.3%, which was much higher than the 1.8% inflation rate seen in January, and higher than the 2.1% average forecast. This is a 3-1/2 year high, reflecting a turnaround in inflation since late 2015 as we can see on the historic chart.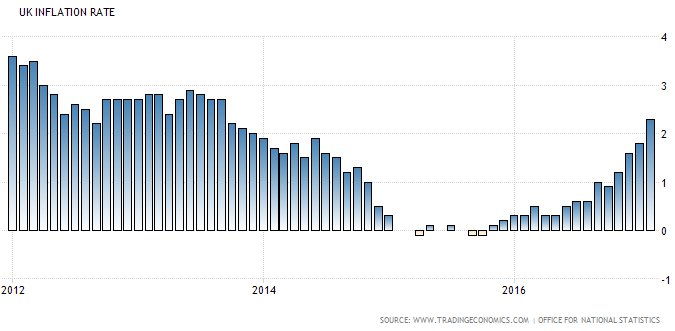 (courtesy of tradingeconomics.com)
Strong inflation is a precursor to rate hikes. The Bank of England recently voted to hold rates, but the tone turned a bit less dovish, with a lone vote for a rate hike. With inflation data like this, we can expect more rate-hike votes to follow.
All this should strengthen the pound, and this was the case as we can see on the EUR/GBP 4H Chart: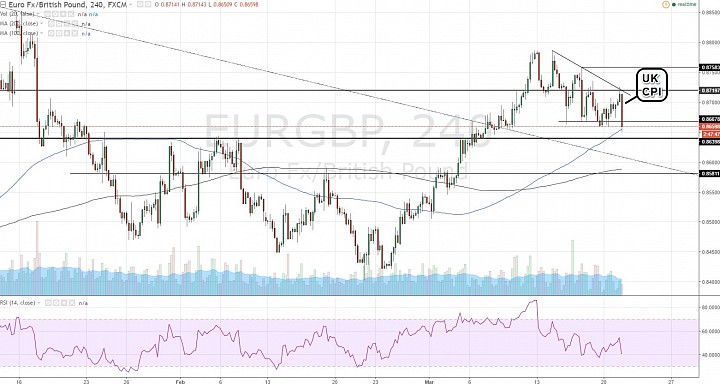 (click to enlarge)
Reaction:
- As we can see on the 4H chart, the reaction in EUR/GBP was GBP-strength. 
- Ahead of the CPI release, EUR/GBP was rallying and threatening to break above a consolidation pattern. 
- However, the inflation data stopped EUR/GBP's bullish path.
- The thing here is that EUR/GBP still looks bullish in the medium-term.
- Still, a short-term reaction can extend correction down to the 0.8580-0.86 area, where price would meet the 200-period simple moving average in the 4H chart, as well as a support/resistance pivot area. 
Resistance:
- In terms of resistance, if price bounces up we should anticipate selling around 0.87.
- The 0.8725 area is now key. It represents the pivot for today's reaction to the CPI release.
- A break above 0.8725 would mean a reversal of that reaction and signal a bullish continuation outlook for EUR/GBP. 
The GBP/USD is also showing GBP-strength. It looks poised to test the 1.2550 pivot area. However, we should anticipate resistance if it pushes towards the 1.27 area. 1.27-1.2770 has been the key resistance for the period of consolidation that started in October 2016, after the Brexit referendum crushed the pound. While it is apparent GBP/USD has since recovered, it is not clear if it will be bullish. The FOMC after all is already on a rate-hike campaign with at least 2 more on the way this year.