Overstock (OSTK) Percolates as Its Subsidiary tZERO Goes Live
Shares of Overstock.com $OSTK has been falling sharply. It might not be prudent to take on Amazon.com, so Overstock's founder Patrick Byrne has refocused his energy towards a digital securities token platform - TZERO. The name expresses its ambition - to be able to process and clear trades in real time as oppose to the standard industry clearing time of T3 (3days).
After about a year of preparation and a lot of regulatory scrutiny, tZERO went live on Friday 1/25/2019.
From a technical perspective, it appeared to be a successful launch. But let's keep in mind that the platform has no usage at the moment. The only token on the platform right now is the native tZERO token (TZRO). In the interview below, Patrick Byrne describes how TZRO captures value - from topline revenue generation instead of the underlying equity like a common stock, analogous to a royalty token.
The success of this platform will depend on the success of putting stocks on a blockchain that can be operated with tZERO.
Despite being early in the game, tZERO drew a lot of excitement and is probably why OSTK got a little boost last week (along with a couple other crypto headlines).
Here's a CBNC coverage of the launch:
Along with this launch, we also saw some management shifts in the Overstock organization:
Overstock Blockchain Fund Shuffles Management Ahead of tZERO Launch (coindesk.com)
OSTK Upside Back to $30: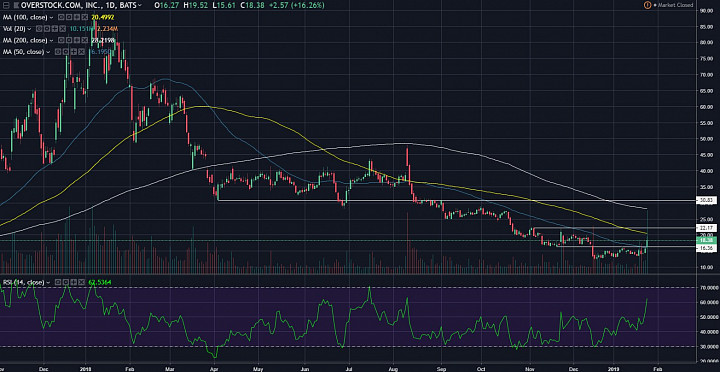 As we can see on the daily chart, OSTK has been barish since the start of 2018.
It loosely tracked the decline of the crypto space, which also fell from early 2018 highs and then found support for many months.
However, OSTK fell lower in August when bitcoin for example held above $6000 until November.
Back to OSTK by itself, we can see that the decline continued into December, when it found support around $12.33.
After a month of consolidation, price started to percolate ahead and during the launch of tZERO.
I think this tZERO could boost OSTK towards $30, but I think the timing is not ripe yet for a bullish rip in OSTK.
There are still too much uncertainty, and we are not in a period of risk appetite.
In this environment, we can expect resistance even around $22.20.
But OSTK pushes through $23, we should still limit the upside to $28-$30 area, which is a key support/resistance pivot area, as well as the 200-day simple moving average (SMA).
Then, I think we can limit the downside back to $16-$18 area, respecting the December-January price bottom.
In a bearish scenario, a break below $14 would likely be part of a bearish continuation swing, which would have the $10 mark in sight.
from CoinPowR