3M Company (MMM) at Key Support
3M Co. $MMM has been sliding sharply since late April after a failed bullish breakout attempt. The market did not like the latest earnings report which provided weak guidance. The currently shaky trade talks with China is also dampening outlook for 3M because 3M does a lot of business in China. In fact, anticipation of weakness in China was the main reason 3M cut profit guidance for 2019.
3M stock tumbles after company reports lower-than-expected earnings and cuts 2019 guidance (CNBC)
3M cuts 2019 profit outlook on weak China, shares fall 11 percent (Reuters)
China backtracked on nearly all aspects of US trade deal: Sources (CNBC)
On the daily chart, the bearish swing looks like a falling knife, but this knife is right on top of a key support pivot around $177. Maybe the market has priced in the negative outlook and MMM will start settling around this support pivot, which was also the 2018-low.
MMM Daily Chart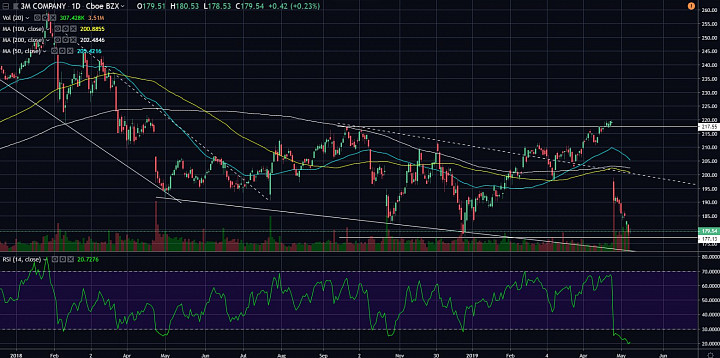 (click to enlarge)
Sideways Market:
- The latest decline could still be within the context of a sideways market.
- I think there is a slight bearish bias within this sideways market, so don't be surprised if price finds support below $177, i.e. $170.
- Still, I think we can start to anticipate support and development of a bullish divergence between the RSI and price lows.
- The volume for the recent bearish swing was strong, so even though we can anticipate support here, we should probably limit any bullish outlook to $190 or at most $200.