RBNZ Holds Rate; a Look at NZD/USD
The Reserve Bank of New Zealand (RBNZ) voted to hold its benchmark interest rate, the Overnight Cash Rate (OCR) at 1.75%. There was no surprise here. Though I would like to note the attitude of the RBNZ towards the New Zealand Dollar. It welcomed a lower NZD, believing that would promote a more balanced growth. 
For now, the market has essentially no reaction to the RBNZ statement. But I suspect that the NZD/USD will have limited upside this week, and a bearish bias in the medium-term.
NZD/USD 4H Chart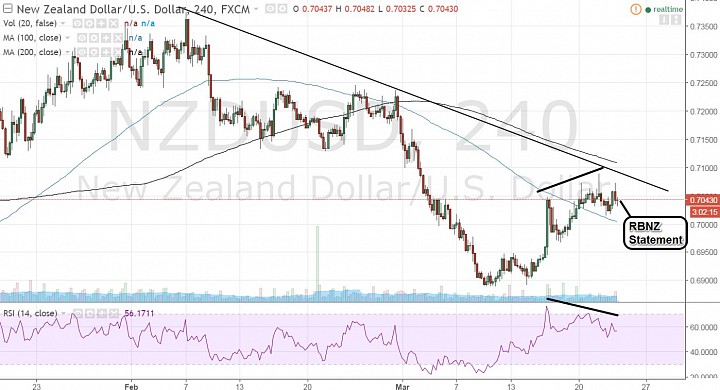 (click to enlarge)

Bullish in a Bearish Market:
- The 4H chart shows that in the past week or so, price has rebounded from around 0.69 and has pushed back above 0.70. 
- However, we can see that this is still within the context of a bearish trend since February. 
- If we believe that the overall mode in the medium-term is still bearish, then we should anticipate the market to fade the current short-term rally. 
- I think if the market is indeed still bearish, price should find resistance around 0.71. 
- We are seeing some bearish divergence, which reflects a market slowing down ahead of this resistance. 

NZD/USD Daily Chart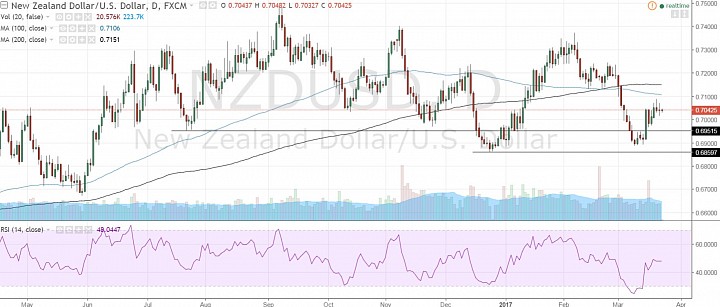 (click to enlarge)

Downside:
- Based on the current disposition of the Fed vs. RBNZ, I think there is downside in the NZD/USD.
- We noted that a hold under 0.71 would be a strong sign that bears are in control.
- The targets in the short-term would be the 0.6950 pivot, and possible the 0.6860 low from December 2016. 
- I would limit my bearish outlook to the December 2016 low because as we can see on the daily chart, NZD/USD has been trading sideways for quite a while, and the Fed has been more hawkish than the RBNZ this whole time. 
- I would anticipate more bearish bias though, because the USD is likely to strengthen as the FOMC fulfill its rate hike projections. 
- Therefore, in 2017, I think NZD/USD can extend even lower towards 0.67, near the lows around June 2016.