Bitcoin (BTC/USD) Will Likely Break Descending Triangle Support, Which Would Open Up $3000
Bitcoin (BTC/USD) continues to consolidate above the $5800-$6000 support area. However the bounces off of support have been clearly weakening since the first bounce in February.
BTC/USD Daily Chart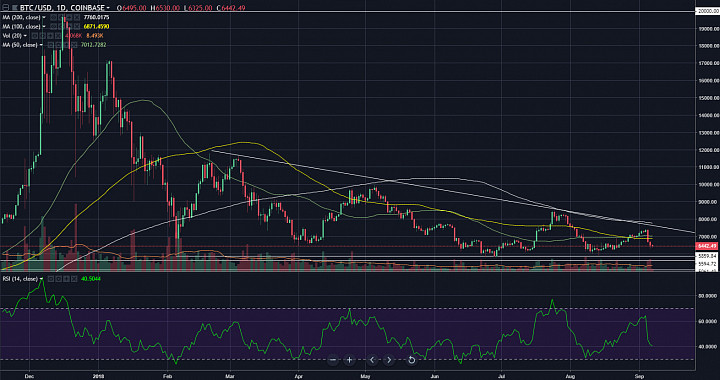 (click to enlarge)
Descending Triangle:
The lower highs and common support describes a descending triangle, which carries some bearish bias.
Furthermore, we an see that price has been held below the 200-day simple moving average (SMA) since March. The latest rejection by it reflects maintenance of this bearish bias.
I think there is a good chance that price will indeed break below $the $5800-$6000 support.
With a break, I think there is a chance price will drop sharply towards the $3000 mark.
Yes, another 50% drop should not be considered rare for bitcoin.
Bullish Outlook:
A bullish outlook for me would be support above $5000, where the 200-week SMA resides (around $5255).
If price can hold above the 200-week SMA, given some elbow space, the overall market can still be assessed as bullish. This would give the market more confidence and start a feedback loop that can help bitcoin hold above $5000 and consolidate sideways for a bit instead of falling further.
The weekly RSI holding above 40 would also help with the bullish scenario - this reflects maintenance of the long-term bullish momentum.
But if $5000 fails to hold as support, then $3000 can be expected and the weekly RSI might fall towards 30 instead of holding above 40.
The RSI fell below 30 in 2014/2015, when Bitcoin was in a 2-year long consolidation. This is the time-frame we should anticipate, which means we might only be half way through the consolidation period.
Buy the Dip?
For bitcoin bulls, this is an opportunity to buy-on-the-dip, given they have dry powder.
Because of the volatility, I would consider averaging in instead of picking just one entry level.
I think even a very small position at the current support around $6000 is not a bad idea, but I would just make sure I have dry powder for lower.
BTC/USD Weekly Chart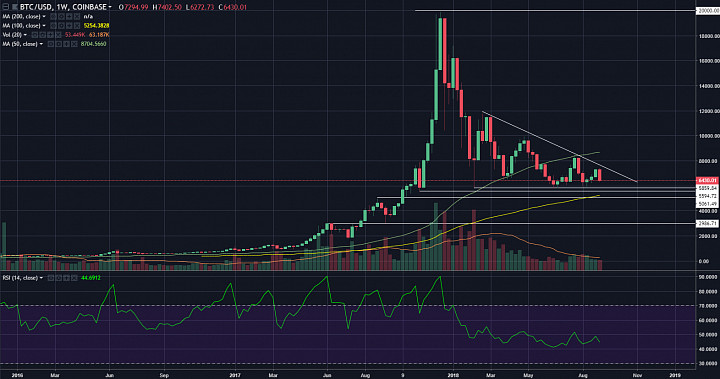 (click to enlarge)
From CoinPowR