The Bed Bath and Beyond (BBBY) Rally Could be Limited to $17-$18
Bed Bath and Beyond $BBBY rallied about 20% on Thursday (1/10) after it announced a better-than-expected guidance on earnings. Here's a recap of the announcement by CNBC:
The company said it is ahead of schedule in terms of slowing down the declines in operating profit and net earnings per share, plus increasing net earnings per share by 2020.
It also said that its fiscal 2019 earnings per share will be about the same as 2018's.
This quarter, the company beat expectations in earnings per share. It earned 18 cents per share, while analysts expected 17 cents per share.
From: Bed Bath and Beyond soars more than 20% on improved 2019 earnings guidance
BBBY Daily Chart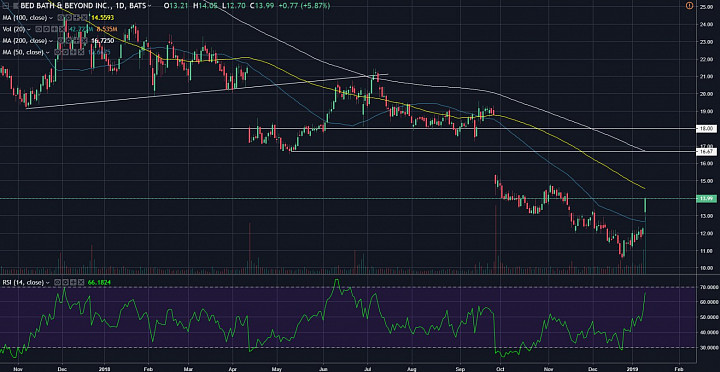 (click to enlarge)
Going Against a Downtrend:
- It is important to note that BBBY has been on a downtrend for quite some time.
- On the weekly chart below, we can see that price topped after reaching $80, and confirmed a bearish trend when price dipped below the $54.10 neckline.
- In this bearish trend, maybe we should limit the current bullish outlook, especially because its just one report. Also note that the report said it is slowing down the decline in operational profit. Until we see it stabilize, there is still downward pressure, or lack of any upside for BBBY.
Respecting Resistance:
- In the short-term, we can maybe expect the current rally to extend if the general market is also in a bit of a recovery mode.
- But we should probably respect the previous support pivot and where the 200-day simple moving average as guides for resistance. Both of these resistance factors are around $16.70.
- For now, I think the most aggressive bullish outlook should be limited to the $18 handle, though I think we will see significant resistance sooner and closer to $17.
BBBY Weekly Chart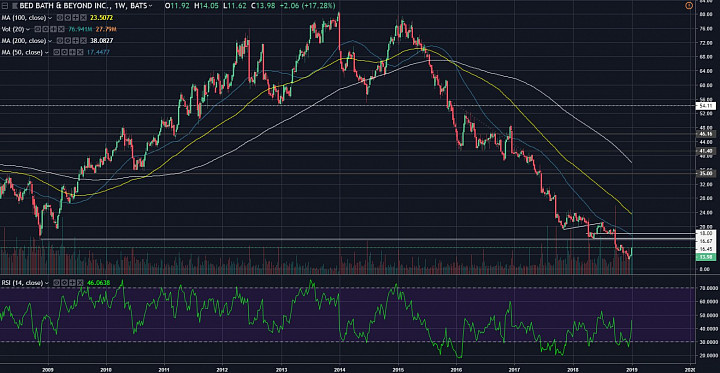 (click to enlarge)