Goldman Sachs (GS) to Challenge the 200-day SMA with Bullish Swing
Last time we looked at Goldman Sachs $GS a couple of weeks ago, we noted that it has shifted from a bearish to a sideways trend, with the potential of completing a price bottom. We anticipated a bullish swing ahead for GS towards the 200-day simple moving average (SMA), which is now aroudn $246.
GS Daily Chart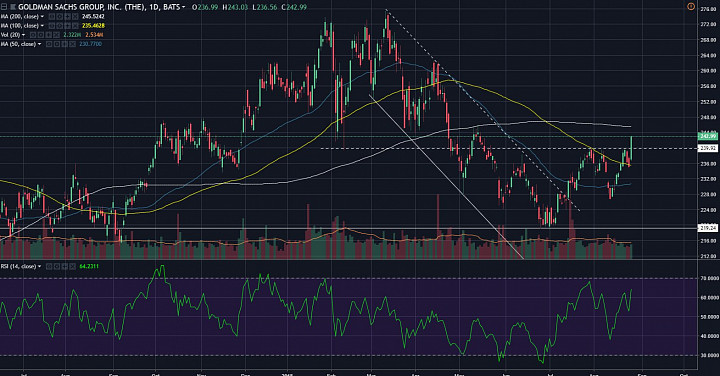 (click to enlarge)
Bullish Breakout:
- As we can see on the daily chart price action has indeed shifted from downwards to sideways, and now possible upwards.
- The RSI holding above 40 was a good sign for development of bullish momentum.
- Price action completing an inverted head and shoulder also suggests that bulls are taking over.
Resistance:
- We did anticipate this bullish swing, but also want to be cautious of the resistance factors ahead, including the 200-day simple moving average (SMA) around $246.
- Also, as we approach the $248-$250 area, we are attacking the bottom of the previous price top, which could act as resistance.
- I think if price does push into this area, and the RSI is above 70, or even better, showing a bearish divergence while around 70, we should anticipate a retreat at least back to $240 to test the price bottom.