Bitcoin (BTCUSD) At a Critical Resistance
Last time we looked at Bitcoin (BTCUSD) it was in a sharp bearish correction, but found a dead-cat-bounce (DCB). In other words, BTCUSD was falling sharply but found support abruptly and started to rally. However, I called it a DCB because I believed that this is just a correction against the prevailing downswing. This means, we should anticipate resistance and futher bearish correction.

Bitcoin (BTCUSD) 4H Chart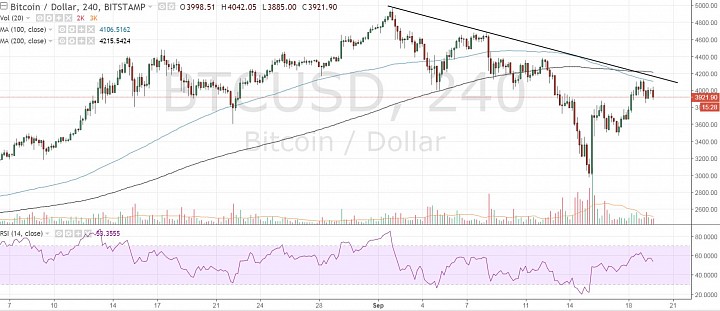 (click to enlarge)
Key Resistance; Scenarios:
- We noted a possible bounce up to 4000, and price appears to be stalling around 4000 now, going almost up to 4200.
- I think a break above 4200 opens up the 5000 handle.
- But after today's (9/20) FOMC meeting, if BTCUSD closes under 4000, I would anticipate downside to at least 3550, near a previous support/resistance pivot.
- We can very well be seeing a consolidation range form between 3000 and 4000, but after a period of wild volatility, I suspect the range will narrow.