VMWare Inc. (VWM) - Anticipating Support at $170; Pulling Back Despite Earnings Beat
VMWare Inc. $VMW reported earnings after the 5/30 session closed. On all accounts, the numbers beat estimates. Here is a summary from thestreet.com:
VMware Shares Drop Despite Earnings That Top Forecasts

...
The Palo Alto, Calif.-based company posted fiscal first-quarter net income of $505 million, or $1.21 a share, down from $942 million, or $2.29 a share, in the comparable year-earlier period. The latest first quarter includes an unexpected gain of $132 million from VMware's investment in Pivotal Software, the company said.
Revenue came in at $2.26 billion vs. $2.01 billion a year earlier.
On a non-GAAP basis, the company earned $553 million, or $1.32 a share, on revenue of $2.27 billion. Analysts polled by FactSet were expecting earnings of $1.28 a share and revenue of $2.24 billion.

VMware, a Dell Technologies portfolio company, said license revenue for the quarter was $869 million. Operating cash flows came to $1.27 billion, while free cash flows for the quarter were $1.2 billion.
In terms of guidance, VMware is maintaining its fiscal 2020 forecast, with expected revenue of $10.03 billion. Analysts are expecting revenue of $10.02 billion with earnings of $6.53 a share.
VMware also said that its board has authorized up to $1.5 billion in stock repurchases through fiscal 2021.
---
VMW has been bullish in 2019 and has been resilient until the last couple of weeks leading up to the earnings report.
VMW Daily Chart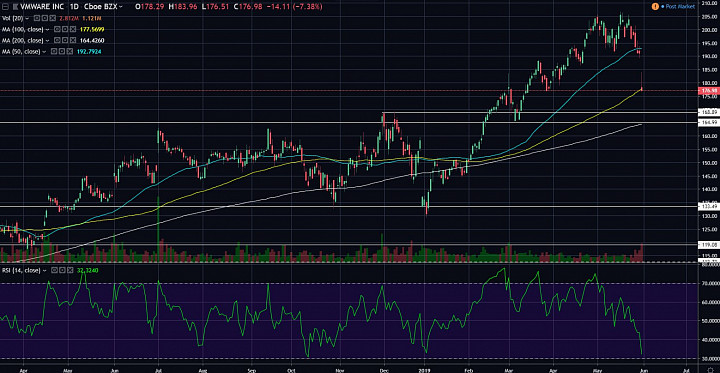 (click to enlarge)
Double Top:
- On the daily chart we can see that price failed to clear the $205 level twice in May.
- Ahead of the earnings report, price was already cracking the neckline and completing the price top.
- After the earnings report, we saw a sharp drop to $177 area. Price rebounded a little during the Friday 5/31 session but still closed below $177.
- VMW is likely a victim of its own success, rallying into record highs after consolidating for almost 10 months before breaking above the $165-$170 resistance.
Support:
- Now, as price pulls back, we can look at this $165-$170 area as support.
- Note that the 200-day simple moving average is also here.
- The thing is, the upside will likely be limited for a while. We saw an earnings beat where the guidance was affirmed. If this was not enough a catalyst for bullish continuation, I think the market is going to be in consolidation mode with VMW.
- The next level of support would likely be around $150, a psychological level and the middle of the previous consolidation range.
- On the weekly chart, we can also see a rising trendline support that would meet price if VMW fell to $150.
- I have dry powder waiting at $170 and $155.

VMW Weekly Chart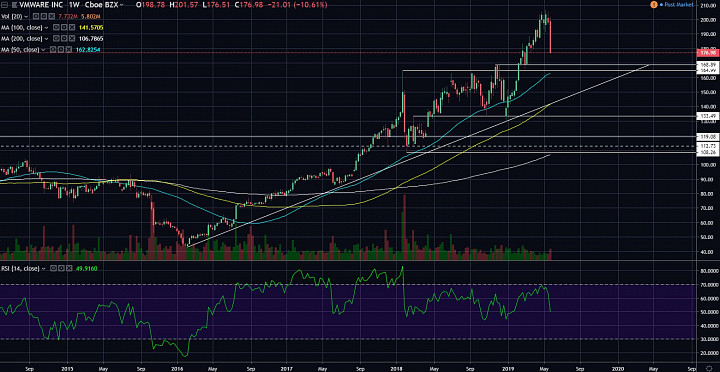 (click to enlarge)