Twitter (TWTR) likes trump and shows it with a bullish breakout
No, I don't mean that twitter comments have been positive about the Trump victory. Shares of Twitter (TWTR) on the other hand reflects a market that looks at the election result as a positive, or at least not negative. 

Twitter 4H Chart 11/10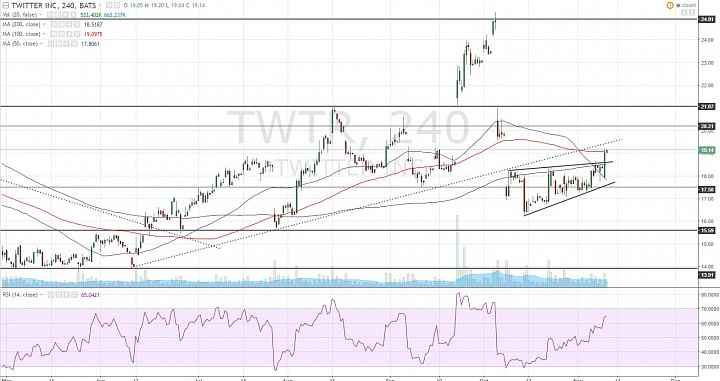 (click to enlarge)

Prevailing strength and wipe out:
- Looking at the 4H chart we see a rollercoaster ride.
- We saw TWTR start to heat up in June.
- After a 3 upswings, price rallied from 14 to 25. 
- Then In October, the market wiped out much of the gains from the previous 4 months.

Acquisition prospect.
- This rollercoaster ride reflects the markets anticipation of an acquisition offer for twitter. 
- The fact that the October dip did not go back to 14.00 suggests that the market is still hanging on some hope that there will be an offer soon. 

Bullish breakout:
- After consolidating for about a month, TWTR popped up after the election results came in. 
- This opens up the 20.20-21.05 resistance area, as well as the 25.00 high from October. 
- If there is a pullback, a hold above 18.00 will be key to confirming the bullish outlook. 
-0 A break below 18.00 on the other hand would suggest a false breakout and suggest a bearish outlook towards the 15.60 support pivot from July. 

One thing was sure. Twitter was a great weapon for Mr. Trump during his election campaign. Maybe the company will clean up its act soon and polish itself for a real offer.