GBP/JPY - looking to sell on a rally
I am bearish on GBP/JPY and think there is a chance to sell on a rally. 

GBP/JPY 1H Chart 8/1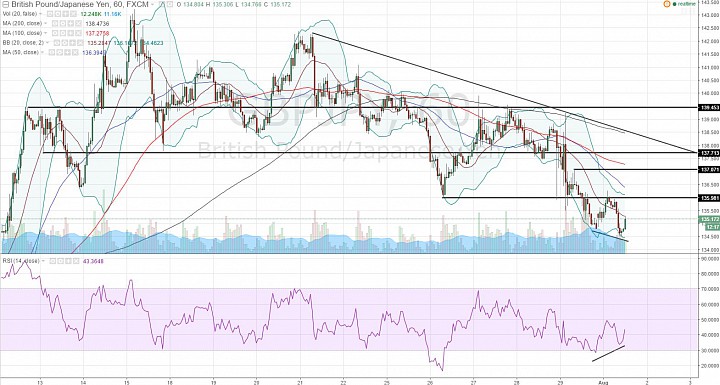 (click to enlarge)
Bullish divergence:
- First of all, the pair is showing a bullish divergence.
- This suggests the possibility of a bullish correction ahead this week.

Resistance:
- If price does rally, we might first see resistance around 136.
- Then, there is a pivot at 137 and 137.70. 
- For me ideally, the rally will be choppy and reach 137.70.
- A falling resistance might reinforce the pivot and provide another reason for sellers under 138. 
- Therefore, I am planning to sell around 137.50, but would like to see further price action before placing an order. 
- There is a good chance that if GBP/JPY is bearish indeed, I will miss the ride because it might not pull back to 137.50.
- But I don't want to chase this trend that could be maturing. In fact, if I go short, I will likely have 135 as a primary target in case GBP/JPY flattens out instead of continuing the downtrend. 

GBP/JPY daily chart 8/1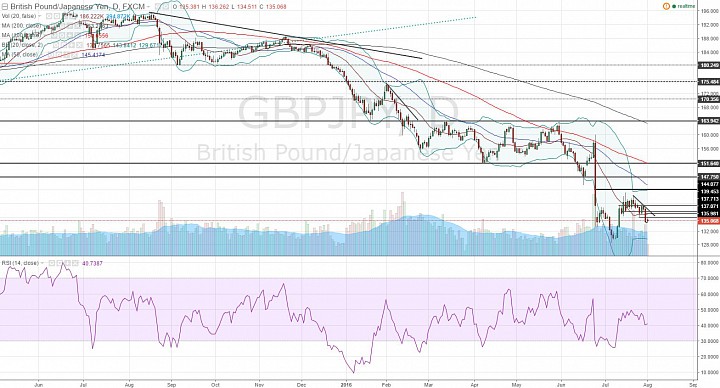 (click to enlarge)
Technical and Fundamental point down:
- The daily chart suggests that GBP/JPY's bearish trend is still intact at least from a technical perspective. 
- Selling on a rally would be in line with the trend that has been going on for a year and has recently accelerated with the passing of Brexit.
- I think although that reaction in late-June was sharp and could indicate a last push, the pound is still going to be pressured. 
- Now that the BoJ looks less and less likely to deliver stimulus, the JPY also has potential of firming up.