Ethereum (ETHUSD) Looks Bullish with a Breakout
Bitcoin #BTCUSD is not the only cryptocurrency rallying against fiats. Ethereum $ETHUSD, the altcoin with the 2nd most market cap (though by a long shot), is also in a bullish mode.

ETHUSD Daily Chart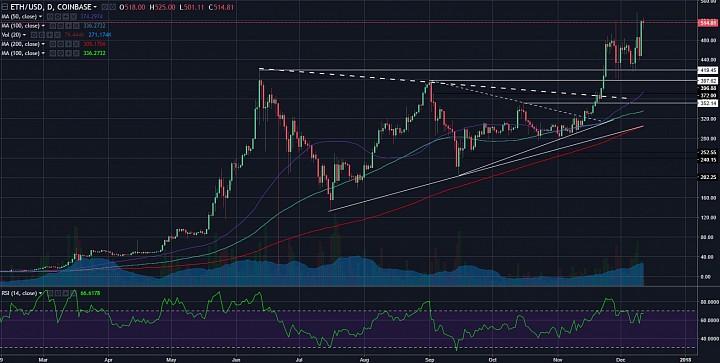 (click to enlarge)
Breakout and Breakout:
- The daily chart shows that ETHUSD began a breakout of a triangle in November.
- Since then, price rallied sharply and broke the previous high around $420.
- Then it consolidated between roughly 400 and roughly 500.
- During the 12/11 session, price appears to be breaking that range.
- Without resistance ahead, breaking 500 opens up the 600 level (+20%).
- Also, the 400 level is now a critical support.
- The rally has been accompanied by inflow of capital as well as strong volume, so I think it can go another 20%.
- Bitcoin has been king, but novices will also learn about ETH and LTC among other altcoins. I think after the BTC push into 2018, altcoins will make their push.
- In other words, I think Ethereum will rally just behind Bitcoin.
- We should also monitor developments of upstart competitors of ETH. There are at least 3 that speculators call the Ethereum killer, EOS, NEO, and ADA.