Equities Market Remain in Bearish Correction Mode
We ended October and started November with some recovery in the equities market. But the contraction in the last few sessions reminds us that the correction period is not over.
SP500 Daily Chart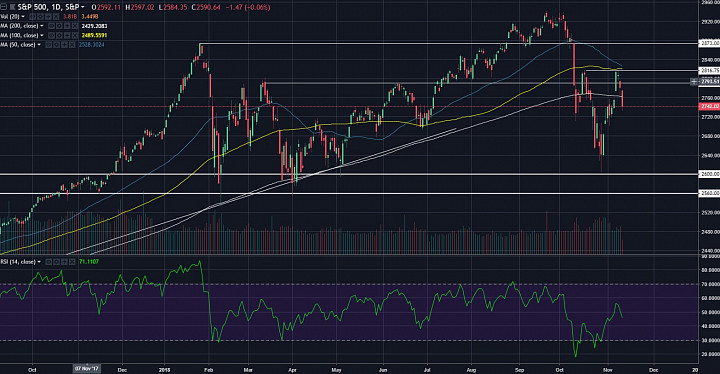 (click to enlarge)
Key Resistance Holds:
- Note that the S&P 500 rally was rejected at a previous resistance around 2817.
- This retreat also showed respect to the 100-, and 50-day simple moving averages (SMA). Now, price is also back below the 200-day SMA.
- Furthermore, the RSI held under 60 and is turning lower. After already dipping below 30, this dynamic reflects maintenance of the bearish momentum in October.
- With the rejection here at 2817, there is downside back towards the 2600 area, with the prospect of further dipping towards 2550-2560 area.
- This bearish outlook would be within the context of a sideways 2018 market, which should not be surprising after several years of persistent bull run in the US equities market.
Anticipating More Consolidation:
- When we look at the weekly chart we can see that price has been bullish since 2016.
- We can also see that there was a period of consolidation in late 2014 through 2015 and first half of 2016 before price continued upwards.
- Therefore, It should not surprised us if the current consolidation period extends into mid-2019 or later.
SP500 Weekly Chart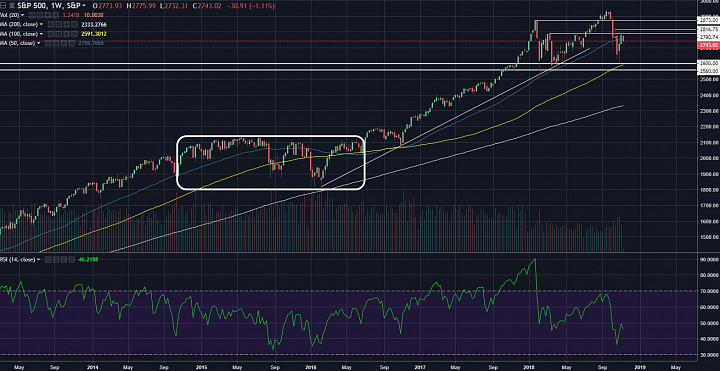 (click to enlarge)