Stalking Best Buy's (BBY) Retracement
As we gear up for the holiday season, some analysts are recommending retail stores such as Best Buy. Here is an article to provides some reasons to buy Best Buy now. 
Retail Stocks Crush the S&P500 in Q4: 4 Top Picks to Buy Now
Let's take a look at BBY from a technical perspective as well:

BEST BUY (BBY) Daily Chart 9/27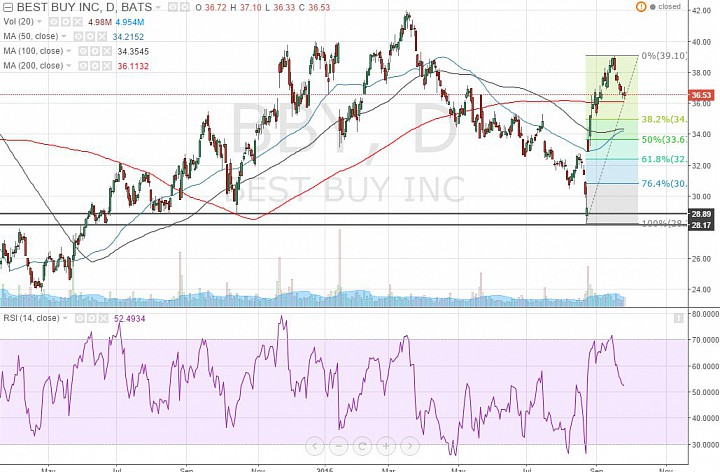 (click to enlarge)

Best Buy was in a bullish market for most of 2014, but by March 2015, it hit 42 and started to retreat. The daily chart also shows that BBY rebounded sharply before tagging 28. The rally has so far cracked 39, and signals a bullish continuation (to the 2014-trend). The March-August price action can be assessed as a correction. The support/resistance pivot area between 28.15 and 28.90 held the market from further bearish outlook. 

The ability to break back above the 200-, 100-, and 50-day SMAs suggests bulls are back in charge, especially with the RSI tagging 70, which shows bullish momentum. 

If we are convinced that BBY has turned bullish in September, we should look at the recent pullback as a set up for a buy-the-dip strategy. 

I would look for these technical conditions for a buy and why:
- Price is back around 34, which is between the 50 and 38.2% fibonacci retracement levels.
- Around 34 is also a previous support pivot area from January, which reaches down a little further.
- 34 is where the 100- and 50-day SMA are clustered.
- Wait for the RSI to approach 40. If it  holds above 40 and starts to turn back up, we can anticipate a pending bullish attempt. 

The bullish scenario has the 40 resistance pivot then the 42 high in sight .