AUD/USD Makes New Lows on the Year as AUS GDP Disappoints
The Australia Bureau of Statistics released Q3 GDP data today, and it disappointed.
AUS Q3 GDP q/q: 0.3%; Forecast: 0.7%, Previous: 0.5%

(click to enlarge; source: forexfactory.com)

Instead of growing faster than the Q2 0.5% clip, Q3 GDP growth slid to 0.3%, making it 2 quarters in a row that growth has slowed. The 0.3% reading is also the lowest since Q1 of 2011, when Australia went through a contraction. 

The decline in growth will push the RBA to consider a rate cut. Better data at the turn of the year, as well as a rebound in commodity prices might help the RBA avoid a rate cut. With the AUD sliding, exports should become more competitive, and if commodity prices improve (AUS is a net commodities exporter), we should see some improved growth numbers.
Until we do see these positive changes, the AUD remains pressured.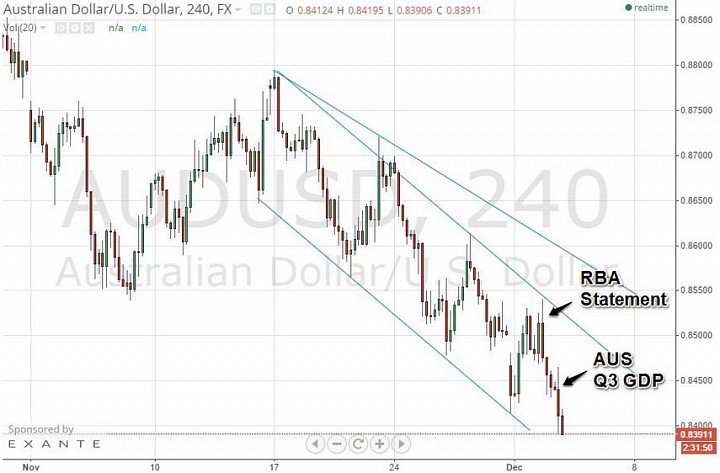 (AUD/USD 4H Chart; click to enlarge)

The AUD/USD was already bearish, and signaled bearish continuation after the RBA statement yesterday (there was nothing new from the statement). The GDP data sent AUD/USD to a new low on the year below 0.84, and into a 4-year low. Now, It looks poised to push toward the 2010-low around 0.8065.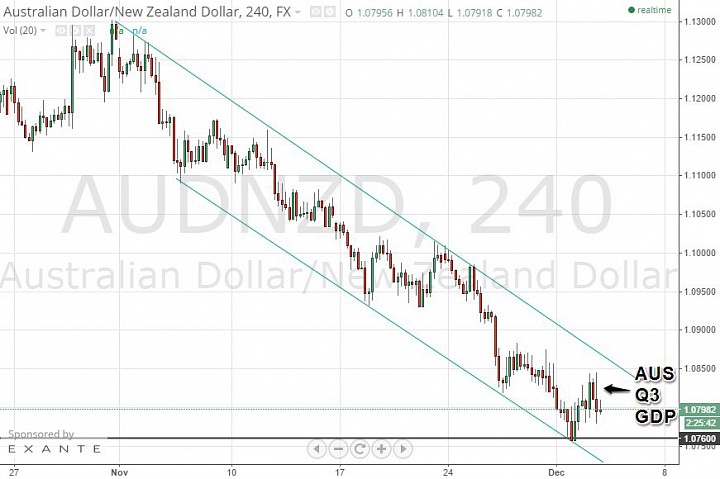 (AUD/NZD 4H Chart; click to enlarge)

AUD/NZD has also been bearish in November, trading in a falling channel as seen in the 4H chart. After a brief correction in the previous session, the AUD/NZD is signaling bearish continuation after the AUS GDP data. The next support levels are 1) 1.0615-1.0650 and 2) 1.05-1.0550 (2014-lows).