Johnson & Johnson (JNJ) Breaking into new All-Time-Highs
A month ago, we discussed that Johnson & Johnson $JNJ was a defensive stock (consumer staples) in this risk averse environment. Indeed JNJ has been flirting with new record highs while the general equities market stumbled.
Johnson & Johnson (JNJ) - Bullish Outlook Materializing (November)
Johnson & Johnson (JNJ) - Looks Defensive in this Environment (October)
JNJ Daily Chart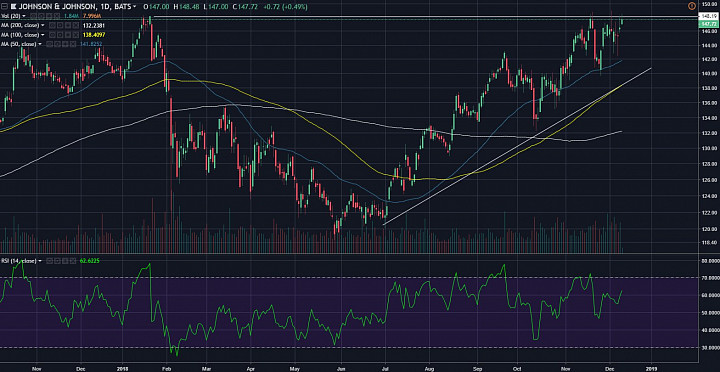 (click to enlarge)
Bullish Continuation:
- JNJ was bullish coming into 2018, but found resistance around $148.20 in January. This became a new all-time-high.
- It then consolidated, with a bearish correction going down to $119 before finding support.
- Since mid-year, price action has been persistently bullish.
- In October, the equities market all dipped, but JNJ turned it around very quickly, holding aboe the 200-day simple moving averge (SMA), which was a clue that it was indeed resilient against general risk aversion.
- In the past couple of weeks, price has been pulling back from the $148.20 resistance. Even though we saw price peep above, it never closed the session above. So we are still respecting this previous all-time-high.
- But judging from the support at $140, and now around $142.50, we should get the feeling that the market is intent on pushing through this resistance into NEW ALL-TIME-HIGHs.
- A break below $142 could be a sign that the market needs to consolidate some more before driving JNJ into new highs.
- However, a break below $140 would suggest a failure that could be followed by a deeper pullback. The $132 area would be a viable target for a break below $140.