Xilinx Inc. (XLNX) Rebounds From Support; Anticipating Resistance Around $115-$117
When Xilinx Inc. $XLNX was falling sharply in late April into May, we anticipated support around the $95-$100 area, which involved a previous support/resistance pivot and the 200-day simple moving average.
Xilinx Inc. (XLNX) Around Key Support Area
Indeed, price stalled at $100 and has been rebounding into the prevailing uptrend.

XLNX Daily Chart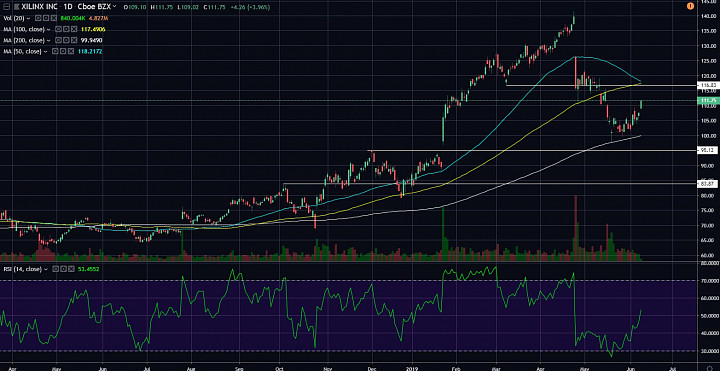 (click to enlarge)
Bullish Structure, Shifting Volatility Cycle:
- The fact that price held above the 200-day simple moving average (SMA) as well as the aforementioned support/resistance pivot supports the bullish case.
- XLNX has been in a steady secular bull run. But the rally in 2019 has been much sharper. The subsequent dip has also been sharp. I think this name will be settling down into a period of lower volatility relative to the first half of 2019.
Resistance:
- As XLNX rallies, I will be anticipating resistance around $115-$117. A hold here would suggest further consolidation/correction, with the $95-$100 area still in sight.
- A break above would put the $130 area in sight.
- Again, I am not confident of a return to $140 because I think that was overshot. I think the highs and lows will start to converge, like a triangle pattern (based on my assumption the market is shifting from high volatility to a relatively lower volatility cycle).
- If price does indeed turn down around $115-$117, I think there is still another chance that XLNX will retest the $95-$100 area for support and might dip even lower.
- I have exposure around $100, but have dry powder waiting around $85 in case of further correction.