EUR/AUD in a Sharp Slide; Anticipating Support
The Australian Dollar (AUD) gained against most majors last week. The EUR/AUD thus fell sharply. Let's take a look at the chart and anticipate where this bearish attempt will find support.

EUR/AUD Weekly Chart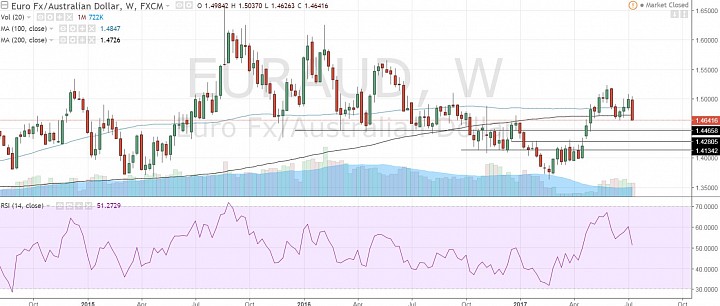 (click to enlarge)

Correction from Previous Bull Swing:
- The EUR/AUD had a strong bullish run from a low of 1.3723 to a high of 1.5226.
- But since this high, price has been in consolidation, with a bit of bearish tilt.
- In fact, after last week's bearish swing, it looks like the bearish correction will extend lower.
Downside:
- With the consideration that the 2017 bull run is part of a bullish trend, the current bearish outlook would be limited.
- Instead of anticipating price to return to the 2017 and 2015 lows around 1.37, we should anticipate support around:
1) 1.4465
2) 1.4280-1.43
3) 1.4135-1.4150
- A hold above these targets would maintain a bullish outlook.
- A break below 1.40 would likely be part of an attempt to break below 1.37.
Upside:
- In the bullish scenario, where price at least holds above 1.4135, a viable bullish target would be the 1.50 handle. This is a psychological level, but not quite the 2017 high around 1.52.