Boston Beer Company (SAM): Breakout Continues
Boston Beer Company (SAM) has recently completed a rounded bottom.
Boston Beer Company (SMA) in a bullish breakout
SAM 4H Chart 7/7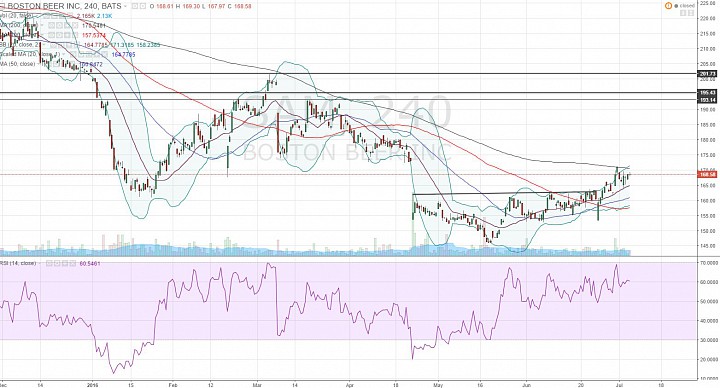 (click to enlarge)
Bullish Confirmation: Since then, price continues to move up. There was also a test of the previous consolidation resistance, and the market respected it as support. 
More Clues:
- What I want to see now is price push above that 200-period simple moving average (SMA) in the 4H chart. 
- Also I want to see the RSI push above 70, which would represent initiation of bullish momentum. 
- Then, if we get another pullback, I would like to see the RSI hold above 40, which represents maintenance of the bullish momentum. 
Targets: I think 200 up to the 2015 high around 201.70 is an viable, but maybe slightly aggressive bullish projection. 193-195.50 area is probably a good target. Since the prevailing trend in the medium-term was bearish, maybe we should limit our target under the 2016 high. There are common pivots around 180, which is a conservative target.

Failure: At this point, if price falls below 157, and the RSI below 40, we should abandon the bullish outlook.