AUD/USD Showing Signs of a Bullish Reversal
AUD/USD has been in a persistent downtrend since January's and 2018-high of 0.8135. In October, it touched a low of 0.7020. Since that low, price action appears to be forming a bottom. Let's take a look at this potential bullish reversal.

AUD/USD Daily Chart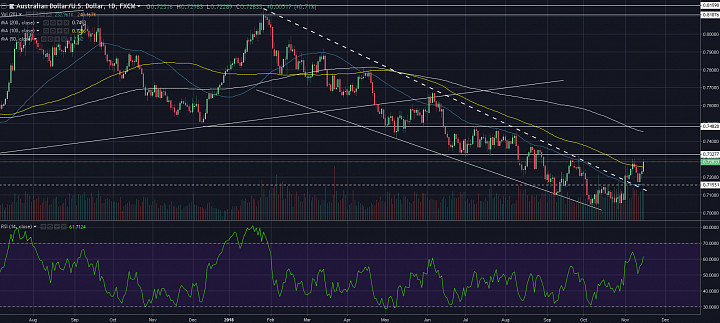 (click to enlarge)
Channel Breakout:
- On the daily chart, we can see that price has been trading within a falling channel.
- The RSI has been tagging 30, and holding under 60.
- Price alsohas been holding below the 200-, 100-, and 50-day simple moving averages (SMA).
- BUT in the recent weeks, price action failed to make a significantly lower low, holding around 0.7020 twice in October.
- Then, it rallied from this double bottom and broke above the falling channel resistance.
- Meanwhile, the RSI pushed above 60.
- It looks like the bearish trend is shifting at least into a sideways one if not a bullish one.
Resistance:
- Because the prevailing trend was bearish, we should anticipate resistance around 0.7330.
- In fact, if price retreats from here AUD/USD would maintain a bearish-neutral outlook.
- On the other hand, a break above 0.7350 should open up 0.7480 and also introduce the possibility of a bullish reversal.
- There is some evidence that bulls are in control in the short-term: November price action found support at 0.7150, the resistance in October.
- For now, assuming price can break above 0.7350, I would limit the bullish outlook to this 0.7480-0.75 area, and only if price can break above 0.7350 first.
- For this bullish outlook, I would also want to see price anchor above 0.72 for more bullish confidence. In other words, even if price retreats from 0.7350, but holds above 0.72, the bullish outlook to 0.7480 would remain viable.
- Finally, while this appears to be a bullish outlook/scenario on the daily chart, it is really a regression to the mean scenario/outlook on the weekly chart, where the moving averages are just above 0.75.
AUD/USD Weekly Chart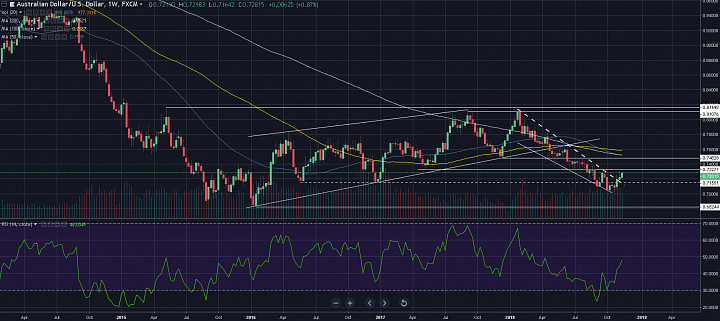 (click to enlarge)