TD Ameritrade (AMTD) Could be a Short-term Buy at $54
TD Ameritrade has been consolidating. We called this period of consolidation/correction at the start of February.
TD Ameritrade (AMTD) - Signals a Pullback Against the January Breakout; Buy The Dip?
As the title suggested, I was looking for the consolidation to buy on the dip. I did not buy on the first dip to $54, but now that price is showing support here for a second time, I have just opened an entry order at $54.25.

AMTD Daily Chart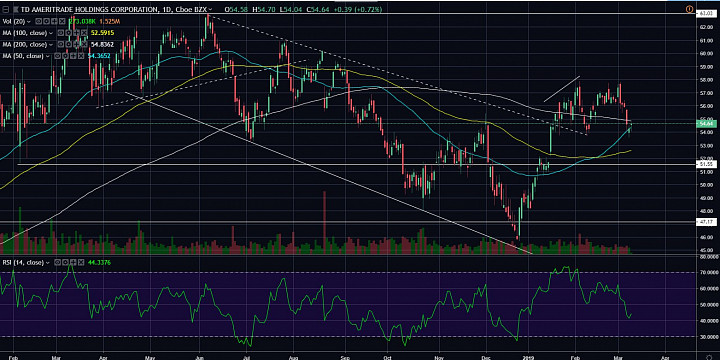 (click to enlarge)
Bullish Outlook:
- The bullish outlook originates from the fact that price broke above a falling channel resistance coming down from June 2018's high around $63.
- It is also based on the fact that the prevailing trend before the 2018 correction was bullish.
- In essence, I am following the long-term trend.
- With that in mind (that it is based on a long-term trend), I would anticipate more downside in the short-term towards $51.50-$52. If price falls below $50, then I would worry about the bullish scenario, and might exit and wait for more clues.
- I think there is at least upside to $58, and then $60, with the $63 high in sight as well. For now, I would limit the upside to $63. I am not sure that the market is ready for another strong bullish cycle in the markets. I think this current bullish cycle is within a larger consolidation cycle, and thus will find resistance when price comes back to previous highs for established names like AMTD.
- Essentially, with a target of $63 and a stop around $48, an average entry price of $53 provides a 2:1 reward to risk - decent enough for me to trigger.
- Some other bullish signals so far include 1) The $58 high in 2019 was above the previous high around $55, back in November. 2018. 2) The RSI is holding above 40. 3) Price is respecting the cluster of moving averages as support.