S&P500 - Bearish Engulfer Suggests We Will Finally See a Correction
It was around Christmas when the market bottomed in 2018. Since then, the S&P500 has rebounded from around 2350 to around 2815. This was a sharp move without any significant corrections. I had anticipated consolidation/correction in mid-February when price came up to 2780. I was anticipating strong resistance here.
Now, even though price did extend higher, it could not escape from the resistance zone in this 2790-2815 area.
SPX Daily Chart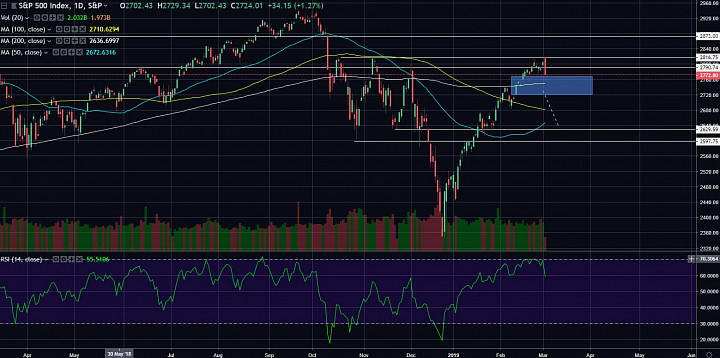 (click to enlarge)
Bearish Engulfer:
- The daily chart shows us that price is stalling here around 2815.
- We also see a bearish engulfing candle for Monday's (3/4) price action.
- This, along with the fact that the RSI is turning down from 70, suggests a bearish outlook.
Key Supports:
- I think there will be possible support around 2660, and a more critical support around 2600.
- If price indeed holds above 2600, it would suggest a bullish outlook for rest of 2019, or at least a neutral one. Essentially, a hold above 2600 would suggest strong risk appetite instead of another sharp contraction like we saw at the end of 2018.
- We can anticipate some sideways action between 2600 and 2800 like we saw in November.
- A break below 2600 however would open up the 2350 area again, and suggest a bearish contraction outlook.