USD/JPY: Trading at a Key Pivot
USD/JPY has been retreating after reaching 114.50 in July, which was basically the May high as well. The pair has shifted from a bearish to a sideways market, and is showing some signs of becoming bullish. Pushing above 114.50 would have been a critical clue for the bullish outlook. Still, as we noted in the previous usd-yen update that if USD/JPY can hold above the 111.70-112 areaUSD/JPY can hold above the 111.70-112 area, it would still carry a bullish bias.

USD/JPY Daily chart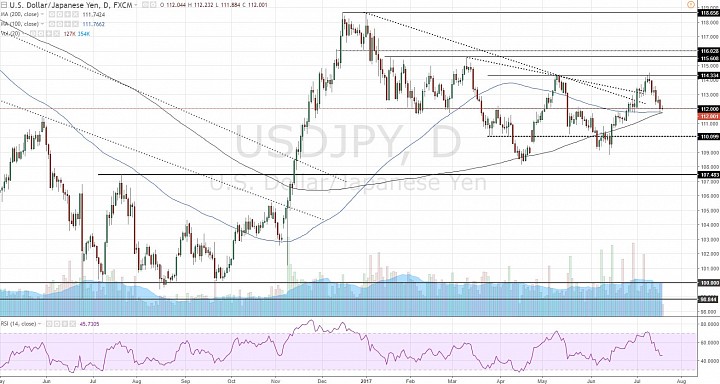 (click to enlarge)
Support Factors:
- The 111.70-112 area involves several potential support factors if the market is indeed bullish.
1) It is the middle of the range. If the market has turned bullish, pivoting above the middle of the range would be a strong clue of the bullish mode.
2) The 200- and 100-day simple moving averages are here. If the market bounces off of them, it would again be a strong clue of the bullish scenario.
3) The RSI is around but above 40. If the market has becoming bullish, the daily RSI should hold above 40.

Reward to Risk Assessment:
- If we treat the 111.70-112 area as support, let's consider the trade idea of buying at 111.90.
- Let's give it some elbow space and say the support is at 111.30.
- In turns of upside, let's have a conservative target of 113, a less aggressive one at 113.50, and 114.30 as the "aggressive one"
- Note that these targets can still be within the the sideways mode, and does not require USD/JPY to be bullish.
- Now, the stop at 111.30 creates risk of 60 pips.
- The target of 113, 113.50, and 114.30 provide potential rewards of 110, 160, and 240 pips respectively.
- The reward to risk going from the conservative to aggressive target are: 1.83:1, 2.66:1, and 4:1 for or an average r:r of 2.83:1.

USD/JPY 4H Chart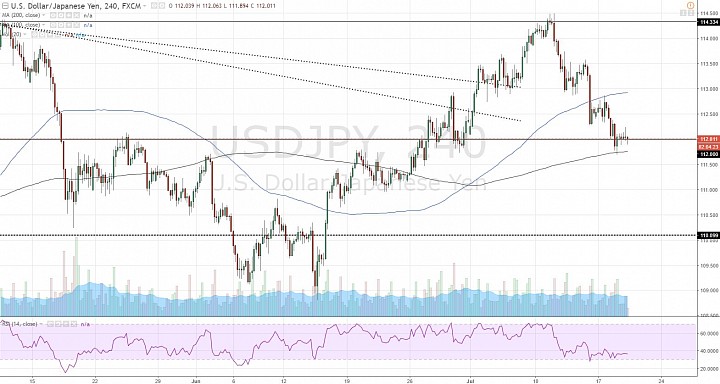 (click to enlarge)