I Believe a Bullish Swing is Coming for Wendy's (WEN)
Wendy's $WEN has been in a period of consolidation since it tagged 16.50 in June. The daily chart shows the choppy bearish correction pattern.
Wendy's Daily Chart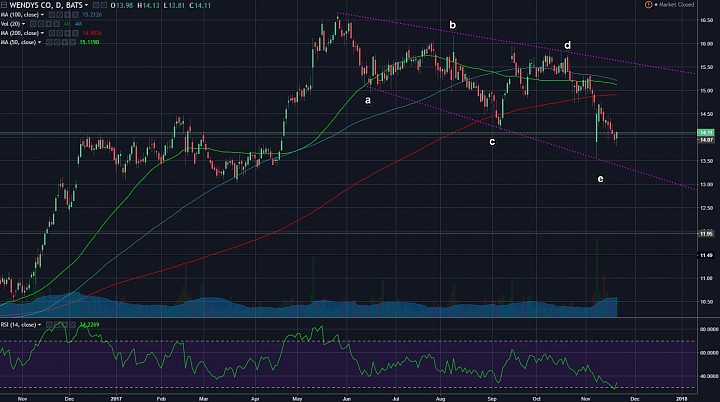 (click to enlarge)
- Corrective Pattern:
- The daily chart shows price in a choppy correction since tagging 16.50. It has almost reached down to 13.50 and has gone through 5 swings (abcde). We might still be in wave e, where we can expect another low, or it could be truncated.
- The main thing to focus on is that this bearish structure looks like a correction, not the primary trend.
- The primary trend therefore might still be bullish.
- If we make this assessment, we can then say that price action appears slightly oversold because the RSI just tagged 30.
- Again, we might still see some downside, but if we see a bullish divergence with the RSI around 30, we should have even more confidence that a bullish swing is coming soon.
Bullish Momentum?
- The weekly chart below shows a secular bull market since 2013.
- Technical analysis shows that this trend is still going.
- Furthermore, the RSI should turn up from 40 if the market is indeed still bullish.
- Therefore, if we do believe Wendy's is bullish, we should consider 13-13.50 area a possible base for a bullish swing that has the 16.50 area in sight, with the potential of extending the trend higher.
- A break below 13 however opens up the 11.50 area, a previous resistance pivot and possibly where price will meet a rising trendline and the 200-week simple moving average (SMA).
Wendy's (WEN) Weekly Chart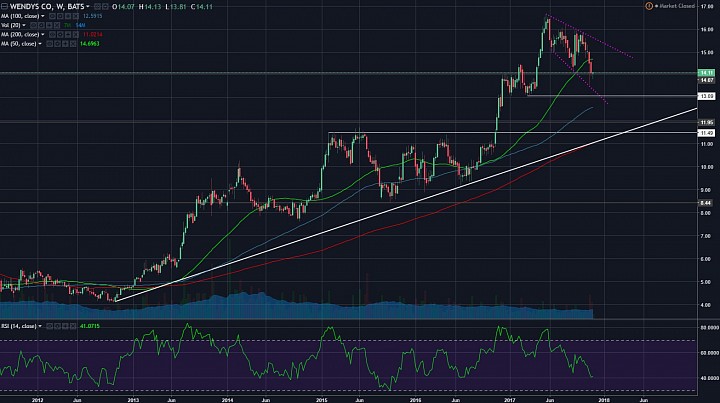 (click to enlarge)