June Saw the Strongest ISM Manufacturing PMI Level since Dec. 2014
Today the Institute for Supply Management (ISM) released its monthly manufacturing survey results, showing the strongest level of growth in the sector since December 2014.
ISM Manufacturing PMI (last 5 years)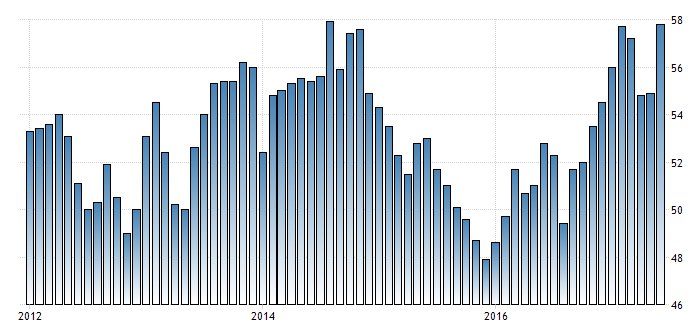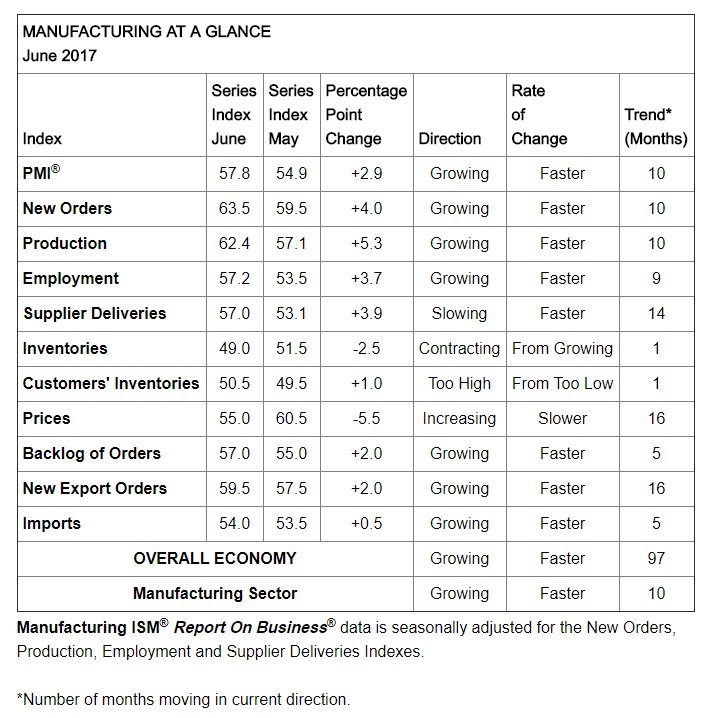 (from the official ISM Manufacturing June 2017 report)

As we can see, all categories expanded except inventories, but even that has been growing before June. This is also the 97th consecutive month of expansion in the overall index.

Here's a summary from the official report:
"The June PMI® registered 57.8 percent, an increase of 2.9 percentage points from the May reading of 54.9 percent. The New Orders Index registered 63.5 percent, an increase of 4 percentage points from the May reading of 59.5 percent. The Production Index registered 62.4 percent, a 5.3 percentage point increase compared to the May reading of 57.1 percent. The Employment Index registered 57.2 percent, an increase of 3.7 percentage points from the May reading of 53.5 percent. The Supplier Deliveries index registered 57 percent, a 3.9 percentage point increase from the May reading of 53.1 percent. The Inventories Index registered 49 percent, a decrease of 2.5 percentage points from the May reading of 51.5 percent. The Prices Index registered 55 percent in June, a decrease of 5.5 percentage points from the May reading of 60.5 percent, indicating higher raw materials' prices for the 16th consecutive month, but at a slower rate of increase in June compared with May. Comments from the panel generally reflect expanding business conditions; with new orders, production, employment, backlog and exports all growing in June compared to May and with supplier deliveries and inventories struggling to keep up with the production pace."
Of the 18 manufacturing industries, 15 reported growth in June in the following order: Furniture & Related Products; Nonmetallic Mineral Products; Paper Products; Machinery; Electrical Equipment, Appliances & Components; Chemical Products; Transportation Equipment; Computer & Electronic Products; Food, Beverage & Tobacco Products; Plastics & Rubber Products; Printing & Related Support Activities; Fabricated Metal Products; Wood Products; Miscellaneous Manufacturing; and Petroleum & Coal Products. Three industries reported contraction in June compared to May: Apparel, Leather & Allied Products; Textile Mills; and Primary Metals.
(ISM Manufacturing PMI June 2017 Report)

Market Reaction:
It should also be noted that the reading came in as a surprise as economists anticipated the index to be around 55.0 for June.
The market reacted buying up the USD. Good data, especially if it surprises estimates will continue to boost the USD because it would provide the Fed with more confidence to raise rates 2 more times in 2017.